A man runs with a great idea. That becomes obsolete, so he adapts and succeeds with another great idea. But then that man dies and everything he built is picked over and finally left for dead. This is the story of ERF trucks. Is this what's happening to our planet?
ERF isn't just the way Rick Ross pronounced the name of the sphere we live on. It's also the name of a bygone truck manufacturing company started by a Mr. Edwin Richard Foden, a man who would influence truck design far ahead of his own time.
In 1898, Englishman Mr. Foden aka "ERF" designed a steam-powered wagon running on steel-tired wheels; the first of its kind. And people actually used the things to move cargo! Until around 1913, when tire technology improved and "rubber" came into fashion.
But don't worry, Foden started to figure that steam-power wasn't going to stay hot so he started working on heavy duty chassises that would run a then-new Gardner oil-engine; a "lightweight" and "high speed" machine for its time.
G/O Media may get a commission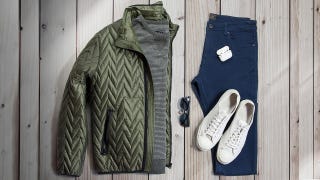 60% off
Jachs NY Fall Sale 60% Off
When the 1930's came along Great Britain faced brutal economic struggles right along with the rest of the world. Unemployment was high, nobody could afford anything, and everyone was miserable. In the same vein of disaster, insurance agents were becoming wary of underwriting steam boilers.
It is said that this was the push Foden needed to be convinced diesel power was the future of overland cargo transport (how insightful of him!) but he couldn't convince the rest of his business partners to get onboard.
So Foden and his son Dennis bailed, leaving the company bearing his last name and starting a new one with his initials; "ERF." He poached two other collegues including an engineer named Ernest Sherratt who helped ERF build their first diesel commercial truck in 1933; Chassis 63, named for Foden's age at the time.
ERF set out to be a premium truck company, using the best components they could buy and getting a proper coach builder to style the cab. Speaking of style, some early ERF trucks are still among the prettiest commercial vehicles ever to come out of Britian.
With big, swoopy lines and round headlights they looked like something out of Fritz Lang's Metropolis. Check out the photo collection Kinja user Battles was kind enough to share right here.
Engines came in from Gardner, and later Cummins, Perkins, Detroit Diesel and Caterpillar Inc. And business was good.
Foden Sr. passed away in 1950, and the company went public four years later. They stayed on the cutting edge of design and quality through the 1950's, 60's, and much of the 70's. But around 1983, recession struck again and ERF was forced to make major cuts to staff levels.
The company soldiered on, making deals with other truck companies to outsource parts of production, and cranked out their most technologically advanced "EC Range" trucks in 1993. The ECs would be ERF's best sellers, but it wasn't enough to protect the company from being bought by Canadian truck company Western Star just three years later.
ERF spiraled into demise as Western Star couldn't run it properly and pawned it off on another truck-builder; MAN in 2000.
At this point ERF's production at the Sandbach, England headquarters slowed to a trickle, building just 8,000 light vehicles for the British military while the last line of ERF heavy trucks was built on MAN's assembly line in Munich.
These ERFs were just rebadged MAN trucks that could be ordered with Cummins ISMe engines, as opposed to the MAN D20 common rail diesel. ERF's shop in Sandbach was shut down completely in 2002. MAN had to drop its relationship with Cummins when Euro 4 emissions regulations forbid the usage of ISMe engines, and all that was left of ERF was a set of badges for the British market.
MAN finally dealt the deathblow to ERF July 2007, discontinuing use of the badge completely.
That's just an abbreviated version of the company's story, but you get the idea. A triumphant rise to relevance, a bountiful golden age, and a slow demise into a downward spiral after being overtaken by a greater power.
Does anyone else see some similarities to the great, continent-spanning civilizations of our planet's history?
To learn more about ERF's ascent and destruction while looking at pictures of their trucks 'til your eyes bleed, check out ERF Historic Vehicles.
Images: Bilbobagweed, Barry Skeates, enginelover2, and the Wikipedia Creative Commons.