Recently, we wrote about some seemingly spam-like emails we had been receiving suggesting we write about a rebodied-Ariel Atom called the Rezvani Beast. That story prompted two things: a nice response from Rezvani PR, and a sobering warning about the company from someone who says he was once involved.
To start from near the beginning of our interest in this: We received a suspicious cluster of emails asking us all, in a similar format, to write about this car we'd never heard of and sort of guessed that it was someone working for the company. Rezvani's PR department denied sending out spam emails about their car from other addresses, and while I still am a bit skeptical about that, even if it were true it pales in comparison to the charges made by auto designer Shawn Moghadam.
G/O Media may get a commission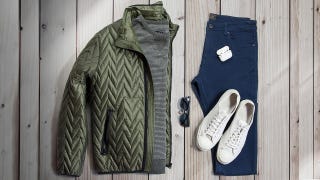 60% off
Jachs NY Fall Sale 60% Off
Moghadam wrote to us to tell us about his experience with Fardees Rezvani, the company founder who gives his name to the car, and his previous car company, Volara. Moghadam also informed us of 2011 bankruptcy case involving Rezvani where he alleges being misled and ultimately not paid for work he did for the would-be supercar maker.
The situation Moghadam describes does not give me much confidence that their new venture, the Ariel Atom-based Rezvani Beast, is, in fact, real. I'll explain why.
Moghadam is an auto designer, and he claims that he was approached by Fardees Rezvani a few years back, while he was contracting for GM's Advanced Design Studio. Rezvani hired Moghadam, he says, to do design work on a new sports car, the Volarra, which Rezvani claimed was a completely original design that he'd put over $250,000 in developing.
According to Moghadam, after a small amount of initial work, he and Rezvani came to an agreement that Moghadam would provide further design work for the car in exchange for 9% of the company, which Rezvani claimed was worth $500,000.
Moghadam also requested Rezvani refrain from using his name in any publicity or even mentioning his involvement publicly, as he did not want to jeopardize his job at GM. He says he was allowed to take outside work as an independent contractor, but preferred to not publicize it. Rezvani obviously did not heed his requests, discussing his involvement with media, and Shawn claims that Rezvani used Shawn's desire for anonymity as a tool to pressure him into continuing to work for him.
Even so, working for a startup supercar company sounds like an exciting deal, right? Rezvani had even lined up investors to help make his dream car a reality. There was only one problem: the Volarra already was a reality, just not Rezvani's. The car that Rezvani claimed he had developed from scratch appears to be a kit car from the Dominican Republic that sells for under $20,000.
The Volarra was actually a DDR SP4 — a car Rezvani did not design and did not have the rights to, despite basing his entire company on the car. The business relationship between Moghadam, the investor, and Rezvani was allegedly terminated, leaving, among other things, Moghadam uncompensated for his work.
In 2011, Rezvani and a joint debtor named Hengameh Khajavi filed for bankruptcy in California, according to public records. They listed less than 50 creditors and about $850,000 in liabilities.
Shawn filed a claim in that case, and as he said in his declaration to the bankruptcy court:
Between signing the agreement dated December 11, 2009 (Plaintiff's Exhibit 8) and my discovery on February 1, 2010 that the Volarra was really a DDR kit car, I put in many hours of design work and produced over 50 pages of design work. I provided these services pursuant to the December 11, 2009 agreement. After the restaurant meeting I did not put in any more work towards the Volarra business venture and I have received nothing in return for my investment of time into the company.
Court records show that in Revzani's bankruptcy case, at least one other investor claimed they were defrauded by Rezvani and his supercar company. One investor, Allen Baradar, sued Rezvani claiming he invested in the Volarra GT without being told of its true origins. He agreed to invest $60,000 in capital in exchange for a 40 percent controlling interest in Volarra Cars and ultimately gave them $20,000.
After discovering the Volarra GT was a copy of the DDR car in 2010, Baradar met with Rezvani and demanded an explanation, but Rezvani simply told him their partnership was over. Rezvani only gave him back $4,000, according to the lawsuit, leading Baradar to sue for the rest.
"Had (Baradar) known that the design of the Volarra GT was not unique, he would not have invested any money with Debtor," the lawsuit filing said, referring to Rezvani.
Other documents from Moghadam show that Rezvani later attempted to sell his company on, of all places, eBay, with the name slightly changed to "Vollari." Eventually the company was sold to an investor in the Netherlands, who renamed the company Vencer, and actually managed to produce one concept/show car.
Also, last year, Rezvani's next car company, Bulleta, got into a bit of trouble with Lotus after making claims that they had an official relationship with the company, which Lotus denied.
And now we have the Rezvani Beast. It's possible that maybe this time the car will actually be produced and sold — anything can happen — though a study of the past history of Rezvani's endeavors don't exactly fill me with confidence.
I contacted Rezvani PR about Shawn Moghadam's claims, and received this response:
We're not at liberty to discuss Vencer or the Sarthe project. If you have any questions regarding Rezvani Motors, please let me know.
Moghadam's full declaration from the bankruptcy case can be found here. The case was discharged in 2012, court records show.
I welcome any further explanation Rezvani can provide us, and if there's anyone with experience or information regarding Volarra, Vencer, or Bulleta companies or cars, I'd love to hear from you as well.
It's certainly not easy to start an actual new car company, and it's hard to tell if these were founded with the intention of actually producing cars, or just taking money from people. We all hope the goal is to make more amazing cars, but the reality is often far more disappointing and much less fun on a track.
(Thanks to Patrick for collaborating and very valuable research assistance!)
UPDATE: We just received this response from Rezvani Motors:
Hi Jason,

In response to your latest article; this is a personal vendetta by Mr.
Moghadam who was hired as a freelance designer for the project mentioned.
Eventually he was let go due to sub-standard work and a push for more
capital.

Between 2008 and 2010, many entities experienced financial woes, to which
the mentioned project was not immune.

Currently, Mr. Rezvani and the rest of the team is focused on building the
Beast — plain and simple. Any and all previous projects the article
describes is not a reflection of Rezvani Motors.

We are currently in the production process of our very first vehicle,
which will be delivered to a customer later in the year. For the next few
months, we will be documenting the build from our partner facility, N2A
Motors.

From this point on, we will let our car do the talking.

Thanks
UPDATE 2: Mr. Moghadam sent us an email stating: "I do not have any knowledge of the Rezvani Beast being a scam. Please retract my opinions about Mr. Rezvani even though his previous company went bankrupt it does not reflect on his current company." When pressed for why he changed his mind he says "We went to court yesterday and this seems to be the best way."
UPDATE 3: Since this article first ran we've visited the facility producing the Beast and found that they appear to be making a real car.