While gearheads across the world reveled in excitement that fan-favorite drivers Chris Harris, David Coulthard and Sabine Schmitz might join the cast of the revamped BBC Top Gear, if a lengthy report in The Sun is to be believed, the rest of the show is in a lot of trouble before it even starts.
Where to begin on this one? It's a very in-depth story with supposed "insider" accounts of a "a catalogue of setbacks" for the new Top Gear, including new host and broadcasting veteran Chris Evans butting heads with producers and the BBC itself, reports that the show has to become "a lot more PC" post-Jeremy Clarkson, problems with cars, and a less favorable reaction to the reported new hosts than expected.
Here are some of the juicier tidbits from the report (UPDATE: which is echoed by this story in the Daily Mail, where Evans is a car columnist, awkwardly enough:)
G/O Media may get a commission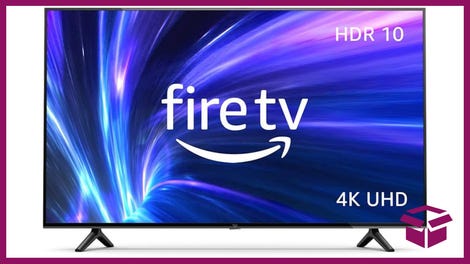 42% Off
Amazon Fire TV 50" 4K Smart TV
Evans apparently crashed a brand new Jaguar tester on his first time around the famed Top Gear track. Ouch. I know that feel, bro!

The show "has had to become a lot more PC following the Clarkson row," which will likely disappoint fans of Top Gear's edgy humor but shouldn't surprise anyone considering how much trouble it was always in before.

Evans, called a "control freak," is at odds with producers; he wants total ownership over the show like longtime producer Andy Wilman had but the BBC says there's too much at stake for a show worth "more than £50 million a year" in merchandising, live events and other revenue sources.

The BBC wants Evans to give up his radio work to focus on Top Gear, and Evans hasn't been willing to do that. Evans also apparently isn't very good at pre-recorded videos, which is all Top Gear is.

The production team apparently "doesn't know anything about cars," leading the Top Gear magazine staff to be brought in to suggest ideas. That is... um, worrisome.

The mainstream public isn't as excited about Coulthard, Schmitz and Harris as we are: "The appointments came after big names including Zoë Ball, Jodie Kidd and Suzi Perry had all been linked to the revamped show before they ruled themselves out."
The story says Evans wants them because they're relative unknowns outside the car world, and he wants to stay the star of the show.
There's a lot more in the story, which, to be fair, is from a notoriously rumormongering British tabloid and should be taken with a grain of salt. At the same time, it's all pretty comprehensive, and none of it is that surprising to hear.

There's also the matter of Clarkson, Hammond and May's new Amazon show, which apparently the folks at BBC are freaked out about for its potential as a competitor—and a threat to Top Gear's audience and revenue.
Stay tuned. This is going to be a very interesting year in car shows.
Photo credit AP
---
Contact the author at patrick@jalopnik.com.