There are certain cars we gush over now, only to bash them a few years later. Some cars are genuine design classics, some even get better with time. But then there are the cars you have a look at again and wonder why people were raving about them in the first place. Let's look at the Ford Probe again.
The Probe is undoubtedly the butt of numerous jokes because of its name. It's a stupid name, what the hell were you thinking, Ford? But introduced in 1988 as the small sports coupe segment was heating up in a big way, it lasted two generations and proved relatively popular among the Preludes, Celicas, Eclipses and Talon (OMG, I love a Talon) back in the day.
But would I call its design stunning? Even for the early '90s? Um...
Well, lots of people thought it was. Somehow, I ended up in a Popular Mechanics owner's report on the second-gen Probe from March 1994. Here's what they said:
Americans fell in love with the first Probe's swoopy lines, and the same thing happened with the current model. The original coupe's styling, however, drew more raves than the new one.
G/O Media may get a commission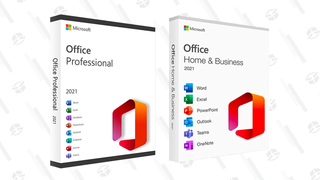 95% off
Cyber Monday - Lowest Price Ever - Microsoft Office Lifetime License
Really?
The first Probe was wedgy and aerodynamic, but clearly a product of the '80s and a company that had already turned out the Sierra and Taurus years before. Attractive, for 1989.
The second generation, the one I had several examples of in Hot Wheels form, looked much sleeker. The nose is super low (pop-up headlights!), but it's all kind of lacking in detail and specialness. It looked good, but for 1994. And I'm not sure if it's flat-out good.
A lot of you might say the Probe sucks, but you're thinking about the car itself and maybe the people who drove them. Yeah, the mechanicals weren't groundbreaking for the time and there's a very good chance you've had experience with a Probe and its flaky transmission at some point. But ignore that. If you had never seen a car before 2014 and then stumbled on one of these, would you say it's attractive?
Look, I'm asking about a car that's been dead for almost 20 years. Of course you've been up late at night with this very question.
Photos: Ford, Wikimedia Commons