It's rare for a company to be practically synonymous with the product they make, but that's exactly what Recaro does with their seats. There are racing seats, and then there are Recaros.
Like its big brother the Focus ST, the mini hot-hatch Fiesta ST packs a pair of Recaro racing seats to hold your wide American ass in place while you engage in all the hoonage that 197 horsepower, 214 lb.-ft. turbo engine can muster.
This is awesome for a lot of reasons. Recaros are the racing seats to have, but they have long been the exclusive domain of high-end luxury and sports cars. Not anymore. The ST twins bring Recaros to the masses, and the pint-sized Fiesta ST may just be the cheapest new car you can get with that brand of racing seats.
Think about it: What other cars in that class offer Recaros? Pricing hasn't been announced for the Fiesta ST yet, but I'm guessing it will start around $21,000 or $22,000 — that's a similar price jump from the base Fiesta as the Focus ST is to its lesser models. That's a pretty great bargain for such a powerful and well-equipped little car.
So tell us, Jalops — name a car that's cheaper than the ST and has Recaros? (And no, your E30 autocross car doesn't count, smartass.)
G/O Media may get a commission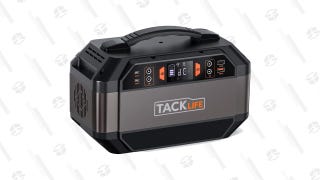 Tacklife Portable Solar Generator
Photo credit Ford