We don't get Skodas in America. That's really too bad. As far as I can tell, Skoda has the most dynamic, interesting, and fun lineup amongst all of the brands that the VW Group owns. And I mean all of them.
Sure, Lamborghini and Bugatti build some insane supercars while Audi and Bentley are forces to be reckoned with when it comes to luxury. And don't get me started on just how great Porsche is. But VW's non-US brands, like Skoda and Seat, are where the really cool cars are.
And there's just something about Skoda that really strikes the right chord.
First off, the names. Do you want alphanumerics? Fine, then go to Audi. Want an SUV named after a spice or a sports car named after a relative of the crocodile? Go to Porsche. Cars with regal names you can't afford? Bugatti or Bentley. Skoda is different. There's the Citigo, Fabia, Rapid, Octavia, Superb, Roomster, and Yeti. Fun names. Happy names. Names that you could affix to a superhero and nobody would say that it doesn't fit. There he is, the legendary Citigo, joined by Fabia. Those criminals don't stand a chance. That's the kind of car I want to drive. "What do you drive, Travis?" "A Superb. For it is the best. What about you?" "I have a Passat." "A piss at what?"
G/O Media may get a commission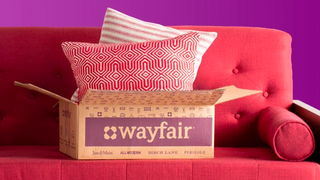 Big deals
Wayfair Surplus Sale
These also aren't just random, downmarket, Czech cars that run on kerosene. They are mostly based on the VW models you know and love, just with slightly different (and, frankly, better styling), and a lower price. A Fabia is a cool little Polo. The Citigo is the up! without the exclamation point. An Octavia is a Jetta with gobs of class. It's like getting a VW at used car prices. Except you aren't. You're getting a brand new car.
Skoda has some of the most innovative features in the entire VW brand portfolio. The Superb has a multimode trunk that can be both a regular trunk and a hatchback. The Rapid has an ice scraper in the fuel filler door, which is a trick little feature that every automaker should have. There's the reconfigurable Roomster. And the Yeti, well, it is quite possibly the most versatile and usable car that money can buy today.
In the 1990s, Skoda also had a hell of a sense of humor. In the World Rally Championship, where everyone ran small sedans and hatchbacks, Skoda entered the Octavia, a sedan based on the Golf platform. It was one of the larger cars in the class at the time, though it isn't Lincoln Town Car sized. It just didn't appear lithe and nimble. The Octavia had no sort of history of rallying, like the Impreza WRX or Lancer Evolution did, nor was it small like Toyota's Corolla or Celica ralliers. (We should point out that Skoda does have a long rally history, with 5,000+ trophies.)
It was a large-ish sedan, lumbering through the forest and doing handbrake turns. It is still my favorite modern rally car. It won precisely zero times, but that didn't stop it from claiming a place in my heart.
We don't get Skoda in any way, shape, or form in America. And it's probably because VW knows that it would make their own brand obsolete. We want Skoda and we want it now. I'll petition my congressman.