It's recently come out that a law firm Jeremy Clarkson has worked closely with in the past has trademarked the name "Gear Knobs." Will this be the name of the old Top Gear crew's new Amazon show? Maybe? Does it actually mean "gear penises?" It's kinda looking that way.
The trademark — to which was later added the alternate spelling "Gear Nobs" and "Speedbirds," was registered to be associated with a vast number of things, including TV/video/web shows, and more:
Class 9

Sound carriers, video recordings, data, images, graphics, text, programs or information; computer software; speakers; amplifiers; memory carriers; interactive compact discs; interactive sound and/or audio recordings; electrically, magnetically and optically recorded data for computers; recorded films; apparatus for recording, transmission, reproduction or reception of sound, images or audio visual content; CD-ROMs; game controllers and software for operating game controllers; downloadable electronic publications; sound, video and data recordings; coin or token operated electrical or electronic amusement apparatus, computer application software for mobile phones; radios; batteries; Global Positioning System [GPS] apparatus; power cables; all relating to motoring or motor vehicles.
"All relating to motoring and motor vehicles" seems a key part there. But there's more! So much more:
Class 16


Certificates; printed publications; magazines; catalogues; posters; instructional and teaching material (except apparatus); printed matter; trading cards; brochures; Paper, cardboard; invitations; books; booklets; pamphlets; periodical publications; printed guides; programs; photographs; calendars; stationery; cards; postcards; greetings cards; diaries; all relating to motoring or motor vehicles.

Class 18

Bags and backpacks; rucksacks; umbrellas; trunks and travelling bags; handbags; wallets for attachment to belts; belts made of leather and imitation leather; key holders; purses; pocket wallets; leather wallets.

Class 21

Napkin rings and holders; jugs; brushes; ornaments, statuettes and figurines of ceramic, china, crystal, glass, earthenware, terra cotta and porcelain; plates and ornamental plates; ice scrapers for windscreens; candlesticks; small domestic utensils and containers; cloths; coasters; tableware; bottles, insulated bottles and flasks; polishing cloths and leathers; buckets; tooth brushes; combs and sponges; drinking vessels; apparatus for cleaning, washing and polishing purposes; windscreen wiping and demisting pads and cloths; dusters; mugs; lunch boxes; brushes, nozzles and cleaning attachments, all for hoses; tankards; jars; egg cups; coasters; car cleaning sponges; wall plaques; picnic baskets and boxes; soap boxes; serving trays; glassware, porcelain and earthenware; chamois leathers; polishing gloves; household or kitchen utensils and containers.


Class 25


Clothing; headgear; footwear.


Class 27

Car mats.


Class 28

Toys, games and playthings; board games; electronic board games; novelties in the form of souvenirs; electronic games; games consoles; video games; computer games; interactive educational or entertainment games for use with television receivers and video apparatus; playing cards; all relating to motoring or motor vehicles.
G/O Media may get a commission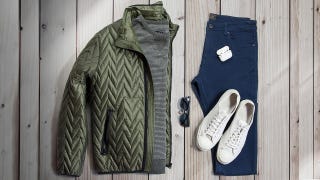 60% off
Jachs NY Fall Sale 60% Off
A few observations here: Car mats get their own class? And how much would you love to eat breakfast from a Gear Knobs egg cup and take a nice swig of breakfast-beer from your tankard and then remove your serviette from your Gear Knobs napkin holder to dab your delicate lips?
If we consult Wikipedia, the arbiter of all things that matter, you'll find "knob" is Brit-slang for a penis, or part of a penis, or "a stupid, irritating person" if you turn it into knobhead.
So, Clarkson seems to be proposing to name his new show "Gear Cocks." I can't help but feel this a positive thing. It's better than "Speedbirds."
---
Contact the author at jason@jalopnik.com.