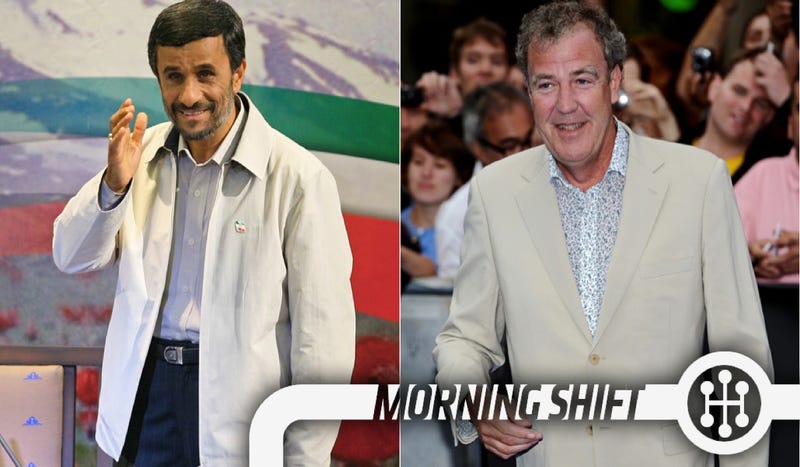 The Morning Shift
All your daily car news in one convenient place. Isn't your time more important?
This is The Morning Shift, our one-stop daily roundup of all the auto news that's actually important — all in one place at 9:00 AM. Or, you could spend all day waiting for other sites to parse it out to you one story at a time. Isn't your time more important?
Sad to say we've got no news on Jason's Beetle other than a big thanks for everyone who reached out to their respective communities to let them know. I know Jason is very grateful for the support of the forums, websites, Facebookers, Tweeters and that one guy who posted it to Friendster. Care people are wonderful.
Today is Friday, after Easter, after the New York Auto Show, and therefore in the middle of a product lull. We have big things we're planning for this summer so stick around.
1st Gear: Top Gear Is Big In Iran
There's a great report from the BBC re: Top Gear and its apparent popularity in Iran. Given it's the biggest non-fiction show… in the world… you'd have to imagine it has some popularity within a populous country like Iran.
Apparently it's such a hit that the Iranian actor who dubs it into Farsi is even famous. We've noted before that our Iranian brothers and sisters are huge car nuts, so that's obviously also part of the appeal. They say Clarkson is sort of the opposite of the exiting government.
According to the BBC's Darius Bazargan, who made a documentary in 2008 about motor racing in Tehran, it is Clarkson's irreverence that endears him to Iranian audiences.
"His humour is so inappropriate and not at all what you hear on state TV - that must account for some of its appeal," he says.
"Jeremy Clarkson is about as opposite to President Mahmoud Ahmedinejad as you can get."I disagree. Both are older, slightly out-of-touch men who say nonsense things and dress too casually for every occasion.
Clarkson says he'd love to do a show in Iran but there's a ban on the BBC.
2nd Gear: Blame The Sequester? I Don't Think So
Want to feel like shit? Just look at today's jobs report. Unemployment drops to 7.6% but in the worst possible way: a drop in labor participation and a revision of previous numbers.
What does this mean? First, the way we figure out how to seasonly adjust numbers is clearly boned. Second, our economy has been growing over the last few months at a greater rate than we realized! Third, it ain't growing as much anymore.
The reason? We'll start with the sequester, which just makes everyone feel bad, but it may be a little early to feel the impact in these numbers so we'll stick a pin in that until we see next month's number.
The most alarming figure in the report is that labor participation is at the lowest level since the '70s. That means a lot of people have given up on finding a job again.
And when you don't have a job, and you're not bringing in money, you're probably not buying a new car.
3rd Gear: Did Tesla Pressure Customers To Reach "Profit" Level?
It's easier to ask for forgiveness than permission, which may have led the sales staff of Tesla Motors to send out an email to its potential customers begging them to finish their orders so they could reach "a huge company milestone" and attain its first profit in the first quarter.
Tesla is certainly improving its position in the market and its underlying financials seem better than in the past, but activities like this call into question how legitimate that profit number is going to be.
Elon Musk, for his part, says the wording wasn't approved by corporate and that he stopped it as soon as he found out. He also said every sale is going to be counted only if a vehicle is paid for, delivered, and the paperwork filed.
If all that's true, then it's an impressive accomplishment.
4th Gear: The Gimli Glider Up For Auction
This Boeing 767 was one of the first planes to feature an LCD digital cockpit and was a marvel of the jet era when it launched 30 years ago. One slight issue, though, as the plane initially read as kilograms of fuel was actually pounds of fuel because of the switch to the metric system. Because of the error it took off with less fuel.
The thing ran out of fuel mid-flight, leading the pilots to have to find a nearby decommissioned Royal Canadian Air Force base in Gimli, Manitoba. The two pilots managed to land the plane safely (though not without some damage) on the airbase which was being used for drag racing that day. Because it glided in they called the plane the "Gimli Glider."
That plane is now up for auction according to The Wall Street Journal. It's a lucky jet, so if you're in the market.
Photo Credit: Latest Top Ten
5th Gear: The Japanese Aren't Having Our Same Problems
The theme of this week has been that the weakened Yen is helping Japanese companies rake in the dollar dollar bills and profits on their exports. Thus, as The Detroit Free Press reports, shares in Toyota, Nissan, and Honda are up.
Granted, they produce a lot of cars in the U.S., but they still are a company that benefits from a lot of exports. As GM's Dan Akerson said "They're an export economy. You have to be suspicious of what they're doing and why."
Is it really that suspicious? Here are a bunch of people talking about it.
Reverse: Lee Petty Passes
On April 5, 2000, Lee Petty, an early star of the National Association for Stock Car Auto Racing (NASCAR) and the patriarch of a racing dynasty that includes his son, NASCAR legend Richard Petty, dies at the age 86 in Greensboro, North Carolina. Lee Petty won more than 50 races during his career, including three NASCAR championships, the first driver to rack up that many championship titles. He also won the first-ever Daytona 500, held in 1959.
[HISTORY]
Neutral: How Is Your Local Economy?
What's job growth like in your neck of the woods? Are people getting jobs? Is it still a weak economy?
Photo Credit: Getty Images