Because you can never have enough Swedish metal, this sub-14K cherry banana creme 1986 Volvo 240 Wagon will be joining Black Metal V8lvo and Project 1964 Continental.
The combination of five doors, classic European styling and affordable rear-wheel drive have always made the Volvo 240 wagon (the five doors means it's a 245, as opposed to the 242 we race) an especially desirable vehicle for us. We'd been looking around for one, contemplating all manner of engine swaps, when we came across this sub-14,000 mile car in Llano.
G/O Media may get a commission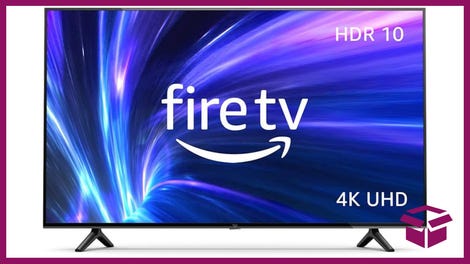 42% Off
Amazon Fire TV 50" 4K Smart TV
The story, which has been verified through service records and a CarFax check, of how a 1986 Volvo 240 DL with less than 14K miles ended up in Llano, Texas involves a pair of snowbirds who flocked from Orange, New Jersey to live their final years along the banks of Lake Buchanan. We're not sure if they knew how long they'd have the car (or how long they'd live) when they moved down there, but given they only passed away a couple of years ago we'd say they did fairly well for themselves.
The car then ended up in the hands of the previous owner, who has driven the car occasionally as a fourth vehicle. He inherited the car at around 10K miles and has only used it slightly since. He did some work on the car, including adding the turbo Volvo wheels (referred to as Virgos), put in a new, aesthetically-challenged stereo system and made a few other tweaks.
We picked it up this Saturday, driving it back from Austin to Houston. It was an absolute pleasure. Despite being a normally aspirated four-cylinder car, it wasn't as slow as you might think and actually has a bit of punch in the mid-range despite the weight. The addition of a kick-down gear in the four-speed auto transmission doesn't hurt either. Let's put it this way: in the spectrum of RWD European sedans of the 80s It's faster than a non-turbo Mercedes 300D but slower than a BMW E28.
The exterior has only two main aesthetic issues, namely the lack of rocker trim (we have it, he couldn't figure out how to reinstall it after taking it off) and the peeling of the black tape below the window. The interior has the typical crack on the dash but is in surprisingly fresh condition. The fake leather seating is soft, not crackly, and gives an impression of being kept in a garage and well-treated most of its life. In all of the seats there's only one tiny puncture we've seen. There's a small bit of rust near the back window inside below the gasket that needs to be corrected and repainted, but it's the only area of visible rust we've seen on the car.
Mechanically, it seems in great condition (we'll learn more when we take it apart). The compressor seized so the a/c doesn't work, but that's a problem we're going to remedy come springtime. The engine runs without complaint. Shifts are smooth. The suspension handles bumps like a car of 8 years not 22.
In the end, we're pleased with the purchase and plan to spend the spring working on these phase 0 issues before contemplating what's next. The chance to have such a low-mileage Volvo that is mechanically and aesthetically 95+% is exciting enough for the moment. Then chaos.