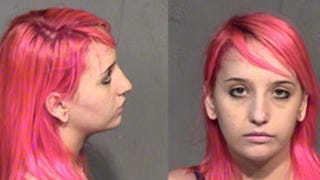 A 19 year old mother is being charged with child abuse and aggravated DUI charges after she drove home with her 5 week old child strapped in a car seat on the roof early Saturday morning.
The baby was found in the middle of an intersection in Phoenix, AZ around 1am on Saturday after falling off the roof but is "perfectly fine" according to Phoenix Police spokesman James Holmes. In a written statement Holmes also revealed some of the events leading up to Catalina Clouser (pictured above) leaving her child on the roof of her 2000 Ford Focus.
It seems Clouser and her Boyfriend were smoking pot in a park with the child on Friday night when they decided to go buy some beer. On the way to the liquor store, officers pulled the car over and arrested Clouser's boyfriend for suspicion of driving under the influence. They allowed Clouser and her child to drive away in the Focus.
Upset by the arrest, Clouser decided to go to a friend's house and "admittedly smoked one or two additional bowls of marijuana," according to Holmes. The woman placed the child on the roof of the car when left her friend's house sometime after midnight and drove away.
When Clouser returned home she realized her baby was missing. Friends of Clouser's mother intercepted Police while they were looking for the child along the route the woman had traveled. When Clouser's mother arrived at the scene she "made admissions to what had occurred." The baby is currently in custody of Arizona Child Protective Services.