If you are dealing with a high-priced luxury or sports car, it is almost 100% impossible to complain about that vehicle on the Internet without someone alleging that you sound like a whiny prick. One M3 buyer who says he got screwed over by BMW is learning that lesson right now.
M3Post user b-thumper put up a thread over the weekend titled "My Euro Delivery Disaster." B-thumper explained that he's driven a last-gen M3 for the past eight years, and for the past four years he has obsessed over one car: a current-generation M3 in "Atlantis Blue with Blue deviated stitching and the Individual Piano trim." He finally made his order and paid for European Delivery, where he'd pick up his car at the BMW Museum, then take it for a lap around the legendary Nurburgring.
The only problem was when he arrived at the museum, he says he found his car was Atlantic Blue, not Atlantis Blue.
Then b-thumper appropriately freaked out.
I RUN to my laptop and check all my paperwork/emails. YES, they all say Atlantis Blue. Before I had narrowed it down to the final color choice, it even mentioned the paint code in earlier emails.

At this point, I start to notify the front desk of my situation. They kindly refer me to the gentleman who will be doing my delivery experience. He could not have been nicer, but I made it clear; we have the wrong color car!
G/O Media may get a commission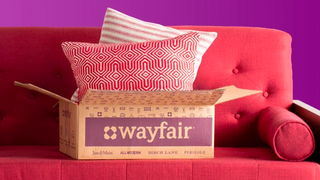 Big deals
Wayfair Surplus Sale
B-thumper explains in his post that the error was at the factory in Germany. This was BMW's fault, and they try and make it right.
There is talk of possibly repainting the car (which I expressed as an impossibility). I want a new M3, as originally specified.
After a nine hour wait, BMW allegedly went on to lend him a new BMW X1 to drive, which he used to lap the 'Ring after all. He is not satisfied.
It's an okay touring car, but woefully in adequate for any kind of track use. I wanna cry!
He says BMW then allowed him to drive the Atlantic Blue M3 as a loaner while they go ahead and build him a new M3 in the proper Atlantis Blue. There's one hitch: M3 production is ending in six weeks and b-thumper's personalized interior would take eight weeks to build. The only way to get the right combination is to swap the interior from the Atlantic Blue car to the Atlantis Blue one. A bodyshop would do the transfer and it just wouldn't be the same.
B-thumper turned it down.
Some options like swapping the interior from the existing car were offered, but much like repainting the car, it will never be 100% authentic and I can only imagine it will lead to a world of squeaks and rattles. It's not a stretch to say that the Individual program is the very reason I am buying an M3 and to have the interior missing is unacceptable.
In the end, b-thumper says he found himself not particularly bitter or angry, just determined to see his car built to his exact specifications for the price he originally paid (in full, before seeing the car, as is standard for BMW's European Deliveries).
While I enjoyed my time in Germany, it ended up being thousands of dollars spent on the wrong vacation. Nobody has offered to reimburse me for my airfare or offer me any financial compensation for the inconvenience. Unless you consider two free tickets to the BMW museum financial compensation.

In any event, this is not resolved at the time of this posting and I am posting my story as a cautionary tale and as a public plea to BMW to make this right. They are trying to make things right, but I am having some serious doubts. Here we are, more than 9 days later and I am left with a hope and a prayer that they can build my car as desired.

It almost goes without saying that the outcome of my situation will greatly influence my desire to own any future BMW vehicles.
The early responses on the forum were supportive, and even b-thumper's dealership (Steve Thomas BMW in CA) chimed in.
I can PROMISE you we are doing everything we can to make this right. We have told BMW that we want the car delivered in the specs as it was ordered and now we are waiting to hear back from the upper levels at BMW. We are dedicated to fight for whats right, but we are at the mercy of BMW.
It didn't take long, though, before people started calling the whole story a "first world problem."
what if (as it appears in this situation) that the die has been cast and there is no going back? human error caused this, and there is no other way to build this car at the factory? it seems as though the window has closed. so now have to figure the plan b. sucks. but that's life.

first world problems indeed.
Truth2k05 also tried to put things in a harsh perspective.
The fact that you are in Europe far outweighs the color of the car and a different color of thread on the stitching. Put the finest paint and leather interior on a Prius and see if that enhances your driving experience. It's an M3.

The op has solutions, get a refund, get another car, get over it.

First world problems, by the way 80k ain't squat.

To everyone reading, let this be a reminder to ask for a paint sample, when asking for an individual color.
Personally, I sympathize with b-thumper. Think of spending four years designing and preparing your absolute dream car. B-thumper must have gone through hours a day photoshopping how the two-tone blue interior would have looked, or contemplating exactly which color complemented the subtle bodywork extensions of the M3.
Surely there were countless nights where he stayed late at work, clocking in overtime to be sure he could afford his dream Atlantis Blue M3. Think of all the birthday parties he missed, or how many times he never hung out with his friends on those long nights in the office.
He would have missed that one barbecue all of his buddies threw back in spring 2011. There was a cute brunette at that barbecue. She was nice, and understanding, and she was restoring a vintage BMW 3.0CS her father gave to her. She needed help on her project. B-thumper could have given her that help. She could have been the one, b-thumper. She could have been the one.
So I absolutely and completely feel for b-thumper. I do. It's just important that we all learn a lesson from his forum post. No matter how right you are, or how wronged you've been, if you complain about some part of the experience of owning an expensive car on the Internet, forum users will pour out of the woodwork to criticize you. There is utterly no way you can describe being handed the keys to a new car to take on a lap of the Nurburgring and say "I wanna cry" without people thinking you're spoiled.
It's just the way of the Internet, and we should all remember that.
(Hat tip to Kamil!)
Photo Credits: b-thumper/M3Post