There's been a lot of criticism of the new Lincoln Continental concept. It's too derivative, it's not good enough, it's not this, it's too much of that. All of you are missing the point. It's the best car in on planet Earth. Just from a planet Earth in a parallel universe.

I'm not even going to talk about the exterior styling here. Everyone has their own opinion on it, and it is what it is. I kinda like it, but hey, that's me. But what people are missing is the bacon, peanut butter, and banana sandwich of the whole thing.
The no-nonsense, totally real, goddamn whimsy.
Because on the inside, it's not a car from 2015 at all. It's not even a car from 2025. It is a car outside of space and time itself.
Every luxury brand in today's time and reality has, in even the slightest of ways, a focus on performance. On driving, on dynamics, on being ground to the ground, which are five words which immediately induce vomit. Cadillac now takes care to remind you that its new CT6 still keeps the driver in mind. Lexus has all its F cars now. The Mercedes-Maybach S600 is a car which has pillows – literal pillows – as headrests. And yet, it's got a V12 putting out more than 500 horsepower, with available automatic side bolsters for the seats.
G/O Media may get a commission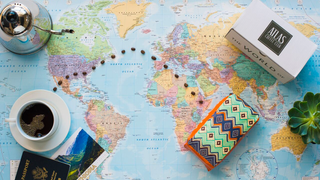 First Bag Free
Atlas Coffee Club - Free Coffee
Explore global coffee
With each bag, Atlas includes details on the coffee's tasting notes and a postcard about the region and its coffee history. And when you subscribe, you have options to tailor frequency, grind size, and roast preference of your beans, so you'll always be brewing the perfect cup.
The true, luxurious land barge has been left behind. It is an extinct species. It is the woolly mammoth of the car world. And yet, like the Russians before them, Lincoln has embarked on a wild attempt to resurrect the dead.
In case you're still not sure what I'm talking about, take a closer look at the interior of the Lincoln Continental concept:
Big, fat, long and narrow rectangular headrests. Side bolsters that aren't so much meant to keep you in one place in a corner so much as they are meant to coddle your love handles. A combination of suede and carpet that really just looks like the finest of velours.
And blue. Blue, everywhere.
But it's not even about the seats that look like someone jacked them out of a particularly well-appointed Lincoln from the 1970s. Champagne accoutrements?
Check. Cocaine-compatible chrome surfaces?
Check. Goddamn slippers, kept in their own zippered-up carrying cases mounted on the back of the front seats???
Check.
You know what cars come with slippers? Great cars. Cars fit for a king.
Cars fit for The King.
I love the new concept from Lincoln. I hope this is definitely its new direction. Because somewhere, out there in the multiverse, Elvis Presley is still crooning.
And he's crooning for this new Continental.