Today is the Nationwide Series' run at Daytona, the Drive4COPD 300. It's a pack racing affair. And like any pack race, there are big crashes. Including one on the final lap that put an engine nearly in the grandstand.
Coming to the checkered flag, leader Regan Smith in the 7 car got turned from behind. The rest of the field was bunched up right behind him.
The ensuing melee took out about a dozen cars. The car of 20-year old Kyle Larson, who is one of the stars of tomorrow, flew into the air and went into the catch fence. The entire front end of the car was ripped off, with the engine and front wheels landing right in front of the grandstands. Larson's car, sans engine, rolled to a stop on the infield. He climbed out, apparently uninjured.
Right now, there is no word on if any fans were injured in the wreck due to flying debris. All drivers in the crash are reportedly ok, the grandstands are the main concern. Our thoughts are with everyone at Daytona, fingers VERY crossed that everyone is ok.
Updates below, most recent updates first.
UPDATE 22: USA Today's Jeff Gluck reports two fans remain in critical condition, including one child and one person with life-threatening injuries due to head trauma. 
G/O Media may get a commission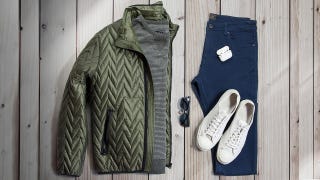 60% off
Jachs NY Fall Sale 60% Off
People who were near the crash described a chaotic scene as the debris flew into the crowd. 
UPDATE 21: Jenna Fryer at the Associated Press is reporting that at least 30 fans, not 28, were injured in today's crash at Daytona. Hospital officials put the number of injured people higher than that of race officials from earlier. 
Halifax Health spokesman Byron Cogdell said 12 people were transported to Halifax Health Medical Center in Daytona Beach and six others were taken to Halifax Health Medical Center of Port Orange. All were in stable condition, Cogdell said. 

Lindsay Rew, a spokeswoman for Florida Hospital Memorial Medical Center, said its Daytona Beach hospital had one fan there who was in good condition. She said three others they had been expecting were diverted to another hospital. 

No fatalities were reported at either hospital. Cogdell said two people taken to the Halifax in Daytona Beach arrived in critical condition, and one of those had life-threatening injuries, both were upgraded to stable condition. 
UPDATE 20: Here is a statement from Daytona International Speedway:
First and foremost, our thoughts and prayers are with our race fans. We are in the process of repairing the facility, and we will be ready to go racing tomorrow.

 
UPDATE 19: Wendy Venturini of SPEED confirms Jeff Gluck's earlier report, two patients at Halifax Medical Center are in critical condition, one is a child and one has a head injury. She also reports that all have been stabilized.
UPDATE 18: Here's what you need to know from NASCAR's official press conference with Daytona International Speedway President Joie Chitwood and Senior Vice President of Racing Operations Steve O'Donnell.
14 people were taken off property. 14 treated on site. Chitwood says they responded exactly as they are trained to. There is no update on condition of fans in the hospital, not appropriate for them to do so. 
Fencing and stands will be repaired for tomorrow's Daytona 500.
UPDATE 17: 
UPDATE 16: 
UPDATE 15: Adam Alexander just reported on SPEED Report that the Daytona Beach Police Chief, Mike Chitwood, has said that one fan is in critical condition.
UPDATE 14: 11 of the fans that were injured were admitted to Halifax Medical Center. All are stable. That's the first good news.
UPDATE 13: Report is that 17 fans are injured, two of whom have "major" injuries.
UPDATE 12: Six fans have serious injuries, taken to Halifax Medical Center as trauma patients.
UPDATE 11: Someone got video from right next to where the tire landed. Click below if you want to watch. I don't. (NASCAR just had the video removed from YouTube, but our friends at Deadspin have a copy that they shared with us below)
UPDATE 10: Here's another angle of the crash, this time from pit road.
UPDATE 9: Per NASCAR's press room feed, there is currently no timetable as to when they'll have an official update to the press. Turn on SPEED right now if you want news straight from Daytona. Race title sponsor DRIVE4COPD has issued this statement on Facebook:
UPDATE 8: 15 fans injured, one head injury heading to surgery per ESPN.
UPDATE 7: Latest from the track is that there is no official word on severity of injuries in the stands. We don't want to speculate on their condition and obviously NASCAR doesn't either.
UPDATE 6: Cops are getting everyone out of the stands, including media. Nate Ryan from USA Today reports that at least five people were worked on by emergency crews.
UPDATE 5: Here's the first statement from NASCAR President Mike Helton
UPDATE 4: It looks like one of the wheels went flying into the stands as well.
UPDATE 3: This is terrifying.
UPDATE 2: A fan sent this image to Jeff Gluck from the scene:
UPDATE: It definitely sounds like there are injuries in the stands. USA Today's Jeff Gluck is tweeting from the scene: