Yesterday, Sebastian Vettel of Red Bull Racing won his third straight Formula One Driver's Championship. Red Bull also just won its third straight Formula One Constructor's Championship a week earlier.
Other than Red Bull, the team's other major backer is Infiniti. Infiniti's partnership is largely a technical and marketing tie up that gets Infiniti into Formula One. Today, Red Bull announced that Infiniti will become the title sponsor of Infiniti Red Bull Racing starting in 2013. This will be good for Infiniti, but it'll be really great for Red Bull.
Unlike Toyota, BMW, and Renault before them, Infiniti isn't starting a team from scratch. That means their investment is nowhere near the $500 million level. That's good for Infiniti. Red Bull Racing is also interested in Infiniti's scratch resistant paint. That's good for Infiniti. Infiniti will be able to host more VIPs at races, like when they, for some reason, let our own Matt Hardigree hang out at the F1 race in Austin. That's good for Infiniti.
But Red Bull's marketing team has scored a major coup here. For Red Bull, Formula One is pretty much a marketing expense, just like the Stratos Space Jump and any other stunt they do. It builds the brand.
G/O Media may get a commission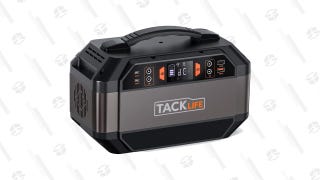 Tacklife Portable Solar Generator
Now Red Bull has somehow gotten a gigantic automaker to sponsor a marketing initiative. Infiniti already uses Red Bull sponsored cars in ads. As they aim to drive home the point that they are more for an enthusiast crowd, we're willing to bet that more Red Bull cars appear in future ads. Infiniti isn't even going to get to badge the Renault engines as Infinitis next year.
Soon, a commercial for Infiniti could also be considered a commercial for Red Bull. By selling sponsorship on a marketing activity, Red Bull has gotten Infiniti to pay them for use in advertisements. Cunning.
UPDATE: Our friend JF Musial over at Drive got to spend a good bit of time with Christian Horner from Red Bull Racing and Andreas Sigl from Infiniti at the USGP.

Here are the nuts and bolts of the deal straight from JF:
At the Abu Dhabi Young Driver test, Red Bull testing the Infiniti Scratch Reheeling paint. When asked why, Horner said for aerodynamic surface finish - they can reduce drag by having the paint fix itself from rock chips and scratches while in the race.
Red Bull Racing also has Nissan/Infiniti battery technicians working in house now to develop next year's KERS system.

So it's not just marketing, which is a big part of it, but the technical partnership is getting deeper.
Photo Credit: Getty Images