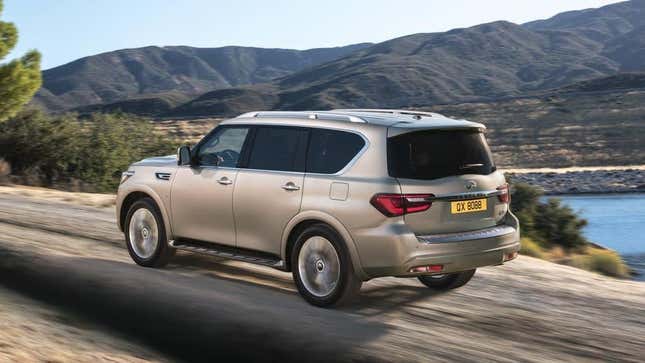 It's not a good time for Infiniti. The company's lineup has received little praise from critics, its headquarters is now back in Japan after a confounding (Johan-directed) move to Hong Kong and—worst of all—it is getting absolutely creamed in the U.S. And with European operations already abandoned, it's hard to see how the brand is going to turn itself around.
According to the company's September sales report and spotted by Carscoops, Infiniti sales plunged 43.9 percent in September. I've used the word "plunged" many times covering stocks and car sales, but never has it seemed quite this accurate. That result is brutal and makes the combined Nissan and Infiniti 24 percent drop seem palatable by comparison.
We noted earlier this week that car sales are falling fast across the board, but no one fell harder than Infiniti. Fiat managed a similarly bad 38 percent decline, but Infiniti still had the toughest September.
Every single Infiniti nameplate had a double-digit sales drop. Worst was the QX30 with an 83.2 percent drop, but that's largely because the model has been discontinued. But the rest of the story is grim, too. The Q70 cratered 60.2 percent, Q60 sales dove 59.8 percent, QX50 sales dropped 51.1 percent and QX80 deliveries were down 50.4 percent.
When a 50.4 percent drop is your 5th-worst number for the month, you're in trouble. Most concerning, though, is probably the QX50 sales drop. That's the brand's newest product. It features the much-hyped variable compression engine and exists in the hottest luxury segment there is right now. If you're crashing there, with an all-new product, it's not a good sign.
And boy, does Infiniti need some sort of good sign. The company left the European market earlier this year after disappointing sales. In shutting down its European operations Infiniti axed the QX30, leaving its product lineup even less filled out.
With the European market ceded and the variable compression engine looking like less of a gamechanger than Infiniti may have expected, the company is betting its hopes on two things: the U.S. market, where it has always been focused, and electrification.
Right now, though, the company has yet to take any leadership in electrification. And since U.S. sales of even its newest model are in freefall, it's hard to see how the company will make a sustainable business case for its future.
Update 10:55 p.m.: A spokesman for Infiniti provided the following comment on the company's September results:
Infiniti is in transition as we move toward a new era of electrification, which we announced early last year. For the 2020 model year, we have made a significant upgrade to our InTouch twin-screen infotainment system, and those vehicles are heading to our showrooms. We announced in August that a new QX55 sport utility coupe will arrive next summer, and a few months after that, we'll have an all-new core (higher volume) vehicle that will be introduced. Infiniti's new generation of vehicles, based upon electrified platforms, are certainly on the horizon in just a couple of model years. Those will be fully electric, or fully electric with a small gasoline engine that's there simply to help charge the batteries. With our Q, QX and Qs Inspiration concept vehicles, we have given consumers a clear indication of what Infiniti showrooms will look like in a very short time. Overall, we are quite excited, optimistic and most of all, focused on our future.