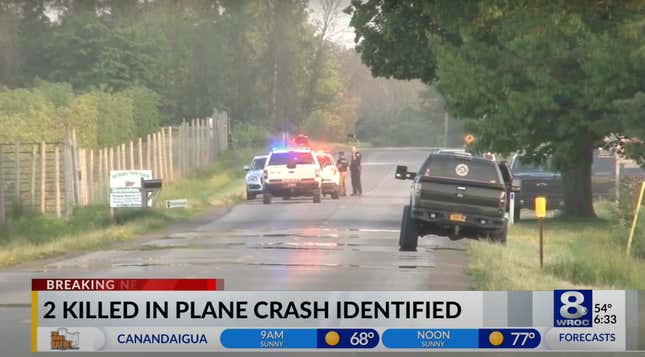 Commercial airlines may not make flying particularly enjoyable anymore, but overall, it's one of the safest ways to travel. Private planes, on the other hand, are much more dangerous, as they tend to crash more frequently. But at least you know the people who built your Cessna generally knew what they were doing. Home-built aircraft, however, are dangerous on a completely different level, as two New Yorkers recently found out.

The Associated Press reports that Dr. Morris Wortman and Earl Luce Jr. died when the hand-built plane they were in crashed on Sunday in Orleans County, New York. The National Transportation Safety Board identified the plane as the Wittman W-5 Buttercup replica that Luce built himself and documented on his website.
In a statement released on Monday, Orleans County Sheriff Christopher Bourke said "the wings of the aircraft became detached from the fuselage and fell to the ground in an orchard." The fuselage then reportedly came down between 1,000 to 1,500 yards from where the wings fell off.
Wortman was a well-known obstetrician and gynecologist who was previously accused of secretly using his own sperm to impregnate fertility patients who believed he was using sperm donated by a medical student. Wortman was sued back in 2021 by the daughter of one of the patients in part because he reportedly kept it a secret that he was actually her biological father after she became one of his gynecology patients.
The woman said she only discovered this information when a DNA test connected her with at least nine other half-siblings who all shared the same biological father. Later DNA testing of one of Wortman's daughters and one of the other half-siblings reportedly confirmed that he was indeed their father. It is currently not clear how far the lawsuit had progressed before his death.