One of the fastest and most remarkable watercraft ever built, the Bluebird K7, returned to the water for the first time this past weekend after an absence of 51 years, 34 of which were spent at the bottom of a British lake. The Bluebird K7 is best known as the vessel that Donald Campbell used to set water speed records in the 1950s and 1960s, before he was killed in a crash in an attempt to set a 300 mph record in 1967.
The Bluebird K7 was, fundamentally, a jet engine on hydrofoils and wrapped in an aerodynamic shell, with a seat inside. The hydroplane set a number of remarkable speed records back in the day, seven water speed records, ranging from 202 mph to 276 mph from 1955 to 1964.

Incredibly, in 1964 Campbell set a land speed record of 403 mph in the turbine-powered Bluebird CN7 car, making him the only person ever to set land and water speed records in the same year. Dude liked to go fast.
G/O Media may get a commission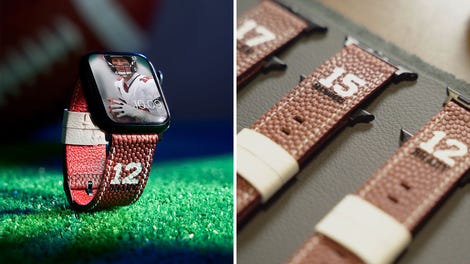 Official NFL PRODUCTS
Official NFL Apple Watch Bands
In 1967, though, Campbell finally seemed to reach the limits of what he and his machines could do; in an attempt to break a 300 mph average speed (he'd actually exceeded 300 mph at points, but for a record you need to find the average speed of two runs) the Bluebird K7, outfitted with a lighter and more powerful engine, lost stability and lifted into the air, eventually somersaulting and impacting the water nose first, destroying the craft and killing Campbell. Here's footage of the wreck:
The wreckage remained at the bottom of Coniston Water from 1967 to 2001, when it was gifted by Gina Campbell, Donald's daughter, to the Ruskin Museum in Coniston.
Since that time, a full restoration of the hydroplane has been ongoing, with the August 4 reveal the first time the boat has been back on the water.
The restored Bluebird K7 uses as many original parts and materials as possible, and will be fully operational and capable.
There's plans to run the Bluebird at speed next year, which should prove quite exciting. This is a significant artifact in the history of humans going very, very fast, so it's great to see it restored to its former glory.