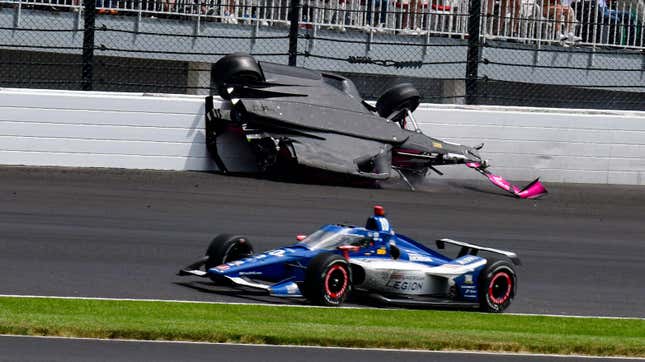 During this year's Indianapolis 500, a wreck between Felix Rosenqvist and Kyle Kirkwood caused one of Kirkwood's tires to fly off the track. One spectator sustained minor injuries from the debris, but thankfully, the tire itself didn't hit anyone. If it had, they likely would have been killed. That doesn't mean the tire ended up being harmless, though. It hit a fan's Chevrolet Cruze in the parking lot.
The tire didn't exactly smash the car to pieces, but it still did a decent amount of front-end damage, as shown in the video below. But the good news is, the fan, who has since been identified as Robin Matthews, won't have to pay for the repairs herself. According to IndyStar, a spokesperson for the Indianapolis Motor Speedway has said Penske Entertainment plans to give her a free car to replace the damaged Cruze.
"I didn't see it come down," Matthews told IndyStar. "I came down and they said, 'Robin, it's your car!' I thought, 'No.' I thought somebody was pranking me. It's a car. It's fine."
What car she'll get, though, still isn't clear. Chevrolet doesn't make the Cruze anymore, so Penske can't simply give her a new one. Somehow, the Malibu is still in production, so it's possible they'll buy her one of those. But come on, this is Penske we're talking about. They have so much money. We say give her a Corvette and offer to cover her auto insurance for at least a year.
Come on, Penske. You know she deserves a new Corvette. Do the right thing and give her a Corvette. Yeah, you'll get some press for giving her a Malibu or Equinox, but just think of the press you'll get if you give her something that's actually exciting. It doesn't have to be a Z06 or anything crazy like that. Just a regular Corvette will have the press all over that story. It's not just the right thing to do. It's a good business decision.