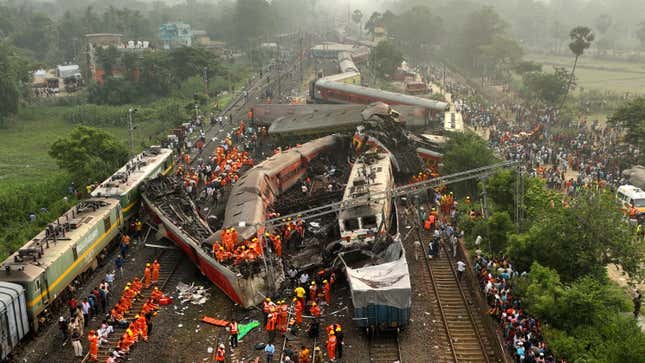 A railway crash involving two passenger trains and one freight train killed 275 people and injured more than 1,200 on Friday in eastern India. That night, a passenger train traveling at 128 kilometers per hour (80 mph) slammed into a stationary freight train, causing various coach cars to derail and crash into a passenger train traveling in the opposite direction, as Al Jazeera reports.

This NYC Garage Takes Vanlife To The Next Level | Jalopnik Visits
The crash happened near the district of Balasore, in the eastern state of Odisha. Indian officials have launched a probe into the crash, and preliminary findings indicate the incident was likely "caused by an error in the electronic signaling system."
The death toll from the crash steadily increased throughout Friday night as rescuers made their way into the wreck, but officials miscounted the bodies and mistakenly reported a total of 280 dead before revising the figure to 275. The New York Times cited Indian officials who say that 100 deceased passengers continue to go unclaimed.
By Monday, the number of passengers injured in the crash had increased to more than 1,200 after initial reports put the count at 900. And it's possible that the final count of the dead and injured will increase in the next few days given the magnitude of the crash, which is being called one of the worst rail disasters in the nation's history. As the AP reports, a 1995 railway crash near New Delhi killed 358 people, while 146 were killed in 2016 after a train slid off the tracks between Indore and Patna. This latest crash and derailment marks yet another devastating incident in India, where over 12 million people ride 14,000 trains per day. Train service has resumed in the area.
The disaster even prompted India's Prime Minister Narendra Modi to visit the site of the accident. Modi reportedly flew in to examine the relief effort and to speak with rescue officials. The AP says Modi would later go on to visit one of the hospitals where the injured were taken for treatment. Modi has vowed that the government will punish those responsible for the crash, but there are already calls for the resignation of India's railway minister, Ashwini Vaishnaw.