What happens when you put a 2015 Subaru WRX STI with a three-time British rally champion on the most dangerous race track in the world and tell him to set a word record? You get a world record. It may sound simple, but having seen it first hand I can tell you it's anything but.
(Full Disclosure: Subaru wanted me to see the Isle of Man so badly they flew me there, fed me, and let me drive a RHD rally car. Why me? My plans of driving one race car many times is being replaced by me driving many race cars one time.)
This "race course" is basically a large chunk of a small island in the Irish Sea, that once a year provides motorcycle racers — also referred to as bat shit crazy loonies — the chance to test their skill along a 37 mile concoction of city streets, small towns, and mountain roads, that at times allow speeds of 200MPH+.
This event is the Isle Of Man TT, a two-week series of races for super bikes and sidecar bikes. It's also known as the most dangerous motorsport event there is. As Guy Martin, one of the most well known TT riders said "The reason I do it is because if you do it wrong, it will kill you."
G/O Media may get a commission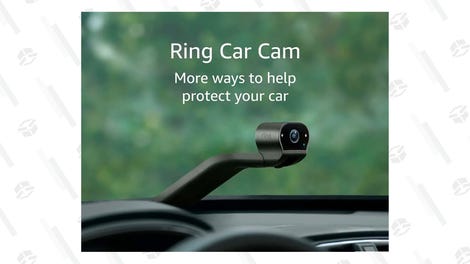 He isn't kidding, in the three days I was there during the second week of competition two racers were killed along with a spectator trying to be his favorite TT hero. This place is jump-out-of-an-airplane-without-a-parachute crazy (I'm looking at you Travis Pastrana). So, of course, Subaru decided this was the perfect place to re-set a world record... with a car
The History:
Subaru initially set the record on the 37 mile Snaefell Mountain course track in 2011, with driver Mark Higgins and a WRX STI. The record they set then; a 115.356 MPH lap, at a time of 19 minutes and 37 seconds. Along with the record came a famous YouTube video called "The Moment." It's where Mark almost loses the car at 155MPH narrowly missing light poles, driveways and careening into someone's living room during their afternoon tea. It could also be called "The Butt Clencher."
But Subaru knew that record wasn't good enough. So, in 2014, Subaru went back to break their own record.
The Car:
The 2015 Subaru WRX STI, used in this record attempt was a USA left hand drive car. It was lightly modified in an effort to possibly make this record attempt a bit safer for the driver Mark Higgins.
The list of enhancements include the following: a roll-cage, different tires, a racing seat and harness, shocks and dampers, and a straight exhaust designed to make it as loud as possible so spectators lining the 37 miles of road, only mere inches from the racing surface, could hear the car coming from the other side of the island. Yeah, next time you get pulled over for a loud exhaust tell the cop "Hey it's a safety feature!"
The Driver:
Mark Higgins is a 43 year old, three-time British Rally Champion, stunt driver, and Subaru factory driver. He had on a special heart-monitoring device that could be overlaid with the data of the car. He was no longer just a rally driver but a Robocop impersonator, all in an effort to find more speed.
The Record:
As a race car driver, I knew much of what Mark Higgins was about to tackle from my frequent viewing of Isle of Man TT's and my own professional driving career. With that said, nothing could prepare me for the sheer brutality and fear the 37 Mile course could instill as we took a ride in a van at pedestrian speeds with Mark the morning of the record attempt. He pointed out each divot and accident "scene" where the police come to investigate and mark where a rider was killed the day before.
It was sobering, to say the least.
It must be noted that this was the third day at attempting a run as the other two days were either cut short by the incredibly unpredictable weather or the investigations into the rider's deaths. To be asked to be perfect over one lap at any race track is tough for any driver, but can you imagine if that that lap is 37 miles long? It's mind boggling, and my mind isn't easily boggled.
Add to that this race is sort of a throwback to the days of yesteryear when motorsport was one of the most dangerous pursuits possible. Then add in that he was more than once put into the mindset of going to run only to have it cancelled. This 'hurry up and wait' mentality can impact a driver in many ways, as in most forms of motorsport you know when you are going to run and you prepare. For this attempt he had to be prepared for long stretches of time with no predictable outcome.
I asked Mark, with all these things considered, how being in a road car compares to a purpose built rally car? His answer truly summed up the level of uniqueness to the challenge.
You are constantly moving the steering all the time, it's tracking every little bump, even when you're in a straight line." It's a road car on road tires, not generally built to be smashing through towns and mountain roads at 160+MPH.
With all those odds set against Mark and his Subaru WRX STI, at precisely 11:05 am local time (after barely making it to his car as our "ride along" lap took so long because of traffic) he took off under the darkening skies and in the approaching rain that blanketed the mountain, unfazed as he was about to climb like the cloak over death itself, all in the attempt to drive the 2015 WRX STI into the record books.
At the start of his warm up, his heart rate was a nervous 100 beats per minute. As he came to the start finish line to start his timed lap it rose to almost his max at 160 beats per minute, he barreled down the front stretch at well over 160MPH in his attempt to tackle a 19-minute ride of speed and terror.
Throughout the lap, his heart rate would rise and slow at an interval of 30-50 beats per minute, depending if he was on a long straight or in a harrowing corner. Towards the end of the lap, his heart rate started to rise massively, as we later found out he was losing braking power as he had overcooked them in the corners. Therefore, he was struggling to get the car slowed for each corner, with the consequences being a sheer cliff drop or a crash into a building. That culminated with his heart racing to 160BPM as he had to use the E-Brake at a very fast speed to barely make it through one of the last corners!
As we all know, it ended with a new lap record of an average speed of 116.470MPH at 19 minutes and 26 seconds. Firmly planting him and the 2015 Subaru WRX STI in the Isle Of Man record books.
Could it have been Faster?
After the run Mark Higgins was asked if he thought it could have been faster? His response "20 seconds." That's a lot of time! So aside from the brakes what could he have been talking about? Well, earlier in the week during the test runs, Higgins remarked how the car would lose a ton of power as it overheated from sustained speeds over 140MPH because at these speeds the air wouldn't go in the intercooler.
Then, in the staging area before the run, I noticed how the right fog light had been removed and had a ducting tube running behind it. Being a NASCAR driver, this is what we also use to run air through the nose to our brakes. But this air duct didn't run to the brakes, it ran into the engine bay, possibly the intercooler.
After the run, Higgins remarked how the engine "Lost a bit of power over the mountain for some reason, maybe the temperatures just got too high." A glance at the main mechanics clipboard showed a note written saying "Engine Sick." So obviously the extra ducting still didn't fix the problem.
It's interesting to see how the aerodynamics of the front end of this WRX STI are preventing air from getting to the intercooler duct. Then again maybe not, as I don't know when a road car is needed to be able to sustain speeds above 140MPH for long periods of time. Not that it matters. It was a problem that stopped them from having an even faster record.
So is that what they fixed when they went out and broke the record one more time? Perhaps.
Whatever the reasoning, that they even tried tells you everything you need to know about Higgins and about the Isle of Man TT. With a record well in hand and no competition to speak of, the idea that they could go faster was enough to make them try again.
That's what you call a racing driver.