There used to be a plug-in hybrid car called the Fisker Karma made by Fisker Automotive. Then there were some battery fires, a recall, lots of wasted, misused tax money, and finally, bankruptcy. Now to break from all that bad stuff, the new owner has changed Fisker's name to... Karma. That's odd.
Fisker has been through the wringer in the last five years or so. It built an okay car that tended to catch fire and also sold poorly. It was in production for a couple years, after which Fisker went through lots of drama. Then there was an awkward period of silence when Fisker Karma owners wondered "Uh, what do I do about my broken car?"
Fast forward to 2014 and Wanxiang Group, the same company that owned Fisker's infamous battery supplier, decided to pick up the struggling EV company for a whopping $149.2 million.

We thought Fisker had changed its brand's name to Elux, but today Fisker Automotive changed its name to Karma Automotive. Is naming a brand after a failed car a good idea? Someone thinks so. Here's video in which the electric car company repeatedly assures that the "new" car company's future looks really bright.
Does this mean that when the Karma does return, it will be called a Karma Karma? Surely not.
G/O Media may get a commission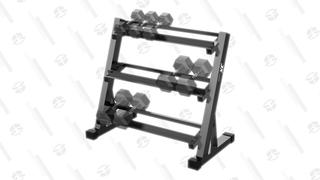 20% Off
JX Fitness Dumbbell Rack
Gains but tidy
Has a three-tier design to help store more weights more conveniently, can safely support up to 1000lbs of weight, which should be enough for most people, has a triangle base for stability, and also features anti-scratch feet which is great if you've built your own studio or workout in your garage.