It isn't really news that we don't enjoy discussing Balance of Performance in motorsport, but it's become an integral part of the discussion, especially in endurance racing. BOP is effectively the means by which the series officials try to level the field on lap time; adding ballast, adjusting pit stop refueling times, and fitting various diameter engine air restrictors. In a pro class like IMSA's GT Le Mans, the point of BOP is to make the race about things like strategy, driver capability, and luck.
Kicking off the season at the 24 Hours of Daytona this weekend, IMSA looked to have a pretty good handle on their BOP for all three classes, Prototype, GT Le Mans, and GT Daytona. As the race has just ended and hindsight being 20/20, we now know they did a pretty decent job in the P and GTD categories. In GTLM, though, BOP has been made an absolute hash of.
While the lion's share of the grid could put down a best single-lap time that was more or less competitive, there were clearly three different steps of pace from class. The pair of Team RLL-entered BMW M8 GTEs were on the third step, over a full second off pace in qualifying, which continued for the length of the race.
The two Porsches and two Corvettes looked to be mostly on pace during qualifying, sharing the top six starting positions with the pair of Fords. When it came time for the race, however, the Chip Ganassi-run Ford GTs were absolutely the class of the field from start to finish.
If you look to the data below, you'll see that the Fords finished the race 1-2 a full two laps up from the nearest competition. Furthermore, the two Fords and the lone Ferrari were the only cars capable of running a 1:44-flat, at least a half-second quicker than the Corvettes, Porsches, and BMWs.
G/O Media may get a commission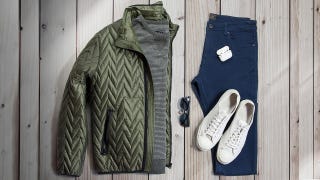 60% off
Jachs NY Fall Sale 60% Off
Those BMWs, though, got the absolute worst of it, and BOP has done them wrong. Granted, it's a new car that had some teething issues to deal with in and of themselves, but they had absolutely no chance to make up any time, as they were simply not capable of the same kinds of lap times.
BOP is intended to be a seamless and largely invisible process. By giving the Fords such an advantage on that baseline, IMSA have effectively thrown the race in favor of the Chip Ganassi team, or at the very least given them a huge advantage which they had the strategy, driver capability, and luck to take full advantage of.