Unlike the boring and processional Le Mans 24 from two weeks ago, IMSA's 6 Hours of The Glen race was a fight for the lead in all three classes for the full run time of the race. In what turned out to be an incredibly hot New York day with track temperatures reaching well into the triple digits, this was a taxing day for the race drivers, and they fought their hearts out.
A stunning late-race pass for the lead launched Stephen Simpson and the "Red Dragon" Gainsco-sponsored JDC-Miller Motorsports entered LMP2 (shared with Misha Goikhberg and Chris Miller) to the point from third in one corner. In a properly professional grid of drivers, a trio of Silver-ranked racers took the victory with astonishing flair.
While CORE Autosport captured the pole with Colin Braun, they opted to start from the back of the grid in order to swap race-starting drivers. Braun, along with team-owner Jon Bennett and hired gun Dumas managed to fight back up to make that late race pass for second. For the full race distance, the Acuras looked dominant, the Mazdas and Nissans weren't quite there, and the Cadillacs had flashes of brilliance, but lost out in the end. The International LMP2 racers, not supported by any manufacturer, had a strong showing, taking first and second. The overall podium even came down to the literal last second as Romain Dumas passed Juan Pablo Montoya by a nose for second as the checkered flag fell.

G/O Media may get a commission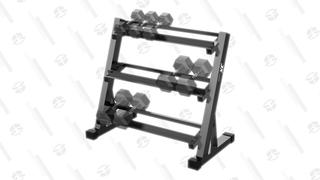 20% Off
JX Fitness Dumbbell Rack
Gains but tidy
Has a three-tier design to help store more weights more conveniently, can safely support up to 1000lbs of weight, which should be enough for most people, has a triangle base for stability, and also features anti-scratch feet which is great if you've built your own studio or workout in your garage.
Like Le Mans, Watkins Glen proved to be a battle between Porsche and Ford for much of the race. Unlike Le Mans, basically all of the other manufacturers managed to work their way up to fight for the overall at some point in the race. In the end, Corvette's Antonio Garcia managed to sneak up into second in GTLM behind Dirk Mueller's Ford GT, and Patrick Pilet followed them home with the final podium place.
BMW's M6 GT3 finished the race in the lead of the GTD field, but that was no easy feat. Markus Palttala lucked out on fuel strategy at the end of the race, and managed the gap back to second in his final stint. That's how endurance racing works, sometimes it shakes out in your favor. It's a bit of luck, a bit of skill, and a whole lot of adaptable strategy. If the GTD finishing order is any indication of how well IMSA has a handle on their in-class BOP this race, 1st through 7th are comprised of seven different manufacturers. Palttala, Dillon Machavern, Don Yount, and the Turner BMW—another proper pro-am victory—may have won, but right behind them was a string of Acura, Lamborghini, Lexus, Mercedes-AMG, Porsche, and Ferrari.
If you aren't watching IMSA right now, you're missing out on the really good racing action.