I am looking at the 1996 BMW 8 Series brochure in front of me and I see (among many scenes of restrained and technocratic luxury) a grand total of 11 exterior colors, a collection of various subdued grays, greens, blues and reds. But there were other colors. There was ... yellow.

I really would not have believed that BMW would allow a person to order a top-of-the-pecking-order 8 Series in yellow. It was a car meant to challenge Mercedes and Porsche and the rest of the sports/luxury elite, a car that could be had with a V12 engine, a car that had flip up headlights that only ever raised to a level of squinting, a squint that said, "I am squinting at you because I could destroy you with one word at this meeting I am the boss and I am the boss because I am not afraid to exercise my authority as the boss."
But lo, here it is, right in the 1996 brochure, towards the back, on the page dedicated to the BMW Individual program for factory-done, limited-custom orders:
Let's zoom in on that little icon, shall we?

G/O Media may get a commission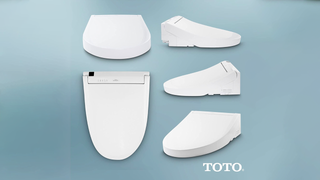 44% off
Toto Washlet Electronic Bidet Toilet Seat
Oh yes. Yellow on the inside, yellow on the outside. Pulling up to your business lunch in a yellow 8 Series was like pulling up with a cocaine booger dangling for the world to see. You like to party, you don't care who knows it. That's actually a gross analogy. Let's scratch that one. The 8 Series was a cool car for cool people, not dweebs who couldn't keep their habits in check.

Well, maybe for the owners. The 8 Series was an exercise in excess for BMW, reaching just slightly beyond the company's own abilities to execute its vision. The V12, for instance, was basically two straight sixes joined in the middle. It even had two ECUs, one per side of the engine.
Thanks to the BMW 8 Series registry, I now know that there was not just one yellow available for the 8er. Buyers spec'd their pillarless hardtops in no fewer than five different shades of yellow:
Dakargelb (Dakar yellow)

Dakargelb 2

Gelb (Yellow)

Giallo (Yellow, but with more hand gestures)

Z1-Gelb (Yellow, but it looked better when the doors folded down)

A grand total of 72 8 Serieses rolled out of the factor in some shade of yellow, the vast majority of which being some variation of Dakar Yellow. I normally associate it with the much, much cheaper E36 3 Series of the day, so it would have been bold to put the color on the vastly more expensive E31 8er.
And that sort of makes it look all the more wonderful.
One such 8er in yellow recently went up for auction (as pointed out on the wonderful Obscure Cars For Sale group on Facebook), an Alpina B12 5.0 in Japan, with a starting ask of about $43,000 and a final bid of about $55,000, as Your Japanese Source Imports claims. The car went unsold, and the owner apparently wants $102,000 for the car.

Sounds fair to me.