Central Texas doesn't really get snow. Sometimes we'll get a slight dusting of the white stuff, but it's usually not enough to do much with. White Christmas? Out of the question. Enter: Copious amounts of wet clay mud.
We sometimes get rain — as we got on Saturday — and that instantly turns the soil here into a sticky mass that will cause you to gain several inches in height should you walk on it. It's mold-able and packable into various shapes and sizes. It's very slippery and difficult to drive in, which is why "unpaved" roads here usually have a gravel base.
Come to think of it, that's a lot like snow.
The day started with everyone huddled inside the garage at Brianne Corn Raceway — the dirt course that the Houston SCCA was using for rallycross shenanigans. Attendance was down for the holidays, but those of us who were there wanted to play.
G/O Media may get a commission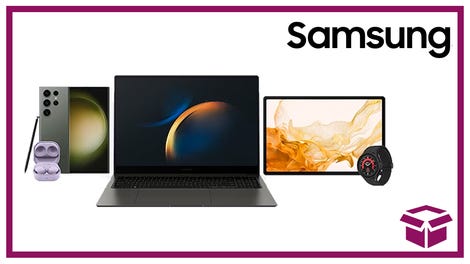 24 hour deals
Discover Samsung - Daily Deal
Since I had brought a couple of "rally varmints" to ride in the window and stare down course workers with their big, rolling brown eyes, I took the rain delay as an opportunity to add additional decorations to my loaner Legacy wagon.
What initially looked like a small amount of sprinkles and a small inconvenience of a rain delay on the radar quickly Texas'd itself into a full-morning rain storm. Finally, a break in the clouds appeared by late morning, and by noon, it was sunny and starting to warm up.
After a very mucky walk around the course, the event staff deemed it fine enough to run and gave us some short instructions on how to handle a completely moist course.
Rule #1: do not stop in the mud.
Rule #2: do not stop in the mud.
Rule #3: turn in slowly, smoothly and earlier than expected—and do not stop in the mud.
Rule #4: do not stop in the mud—YOU WILL GET STUCK.
Many of the more experienced drivers compared it to heavy snow and ice—two conditions that most of the field had no experience with whatsoever.
I now know the feeling of being pwned by anything with snow or rally tires. If we did this for the rest of Austin, maybe we wouldn't panic every time the temperature dips below freezing!
So, yes—people got stuck. Even the Land Rover we'd initially sent to dislodge a stuck vehicle got stuck, so we ended up using a six-wheeled Max IV to tow both vehicles in.
While we were waiting for people to be towed in, the snow comparison gave me a few ideas. I started packing the mud that had accumulated on my car into various shapes, tossing little chunks of it into the field and playing around with it.
I eventually settled on a miniature snowman to ride on top of the wagon. I gave him a little pebble nose and went to go park the wagon, as all my runs were done.
He didn't budge an inch en route to my parking spot, which was up a hill on the other side of the building—hehe.
This gave the kids who were watchin' the muddin' an idea: let's build a mudman!
The little mudman took shape, eventually gaining some polka-dotted clothes and an arm.
Yes, Christmas came on Winter Solstice for central Texas.
Brown Christmas, that is.
Video credit: Philip Deason