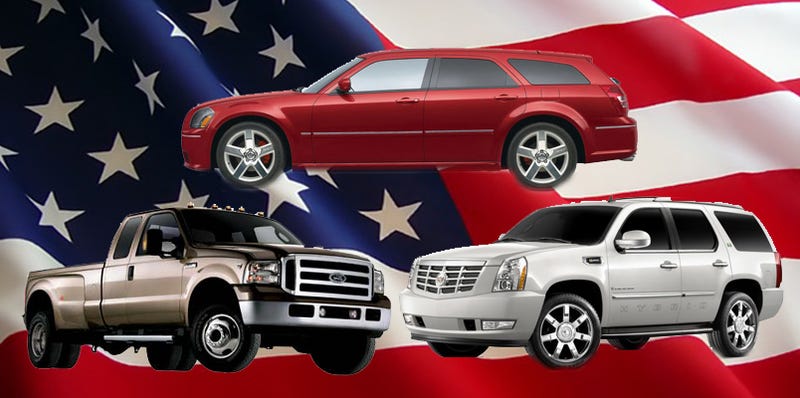 Despite allegedly having problems building the cars Americans want to buy, the not-so-Big Three are building the kind of cars American thieves want to steal making up 90% of the list of the most stolen vehicles list for 2008.
The most stolen cars, actually, are the ones American automakers are taking the most flack over: big trucks and SUVs. Vehicles like the Cadillac Escalade were popular with automakers because it was a cheap platform they could load with lots of expensive parts and make a hefty profit on. For the same reason it is popular with thieves. Add expensive audio equipment and rims, especially on cars like the Hummer H2 and Dodge Magnum, to the equation and you might as well paint "steal my car" on the side.
Car: Claims Per 1,000/Average Loss Payment Per Claim

10.) Honda S2000 Convertible: 8.1/$13,624
9.) 2005-2007 Dodge Durango: 8.1/$9,682
8.) 2005-2007 Hummer H2: 8.7/$18,791
7.) 2005-2007 Dodge Magnum: 9.9/$8,926
6.) 2005-2007 Hummer H2 SUT: 10.0/$23,771
5.) 2005-2007 Ford F-350 SuperCrew: 10.7/$20,138
4.) 2006-2007 Dodge Charger: 11/$7,047
3.) 2007 Cadillac Escalade: 11.3/$14,657
2.) 2005-2007 Ford F-250 SuperCrew: 13.1/$19,250
1.) 2007 Cadillac Escalade ESV: 15.0/$13,060
By comparison, luxury vehicles like the Mercedes E-Class and SUVs like the Buick Rainier and Subaru Forester are at the bottom of the list in terms of claims per 1,000. The E-Class is surprising and may, in a certain way, be a bad sign for Mercedes. Cars with swagger are the ones left on blocks or tossed in the back of a container ship.
[Source: IIHS via Forbes]