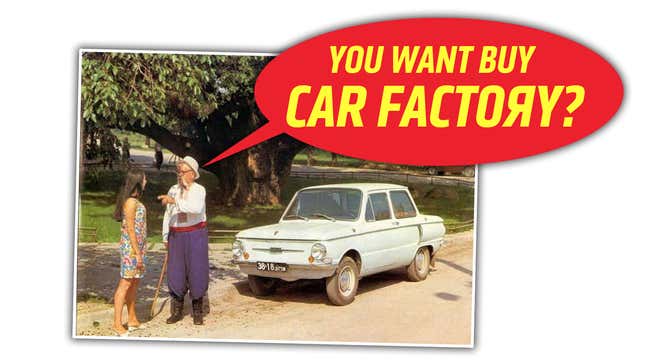 Ukranian automaker ZAZ, the builders of the Soviet Union's first real "people's car," has been having a rough go for the past few years. After being fire-sale'd for just $9 million dollars just a couple of years ago, ZAZ is again in bankruptcy, and is once again putting all its property and facilities up for sale. It's sad for us few fans of their old, pleasingly homely little cars, but great news for you bored rich people out there who've always wanted your own car company.
This comes to us from the Ukrainian Independent Information Agency of News, which I'm sure you, like me, check daily for such updates.

Some, like our pal Jay Ramey from AutoWeek up there, have valued the company's assets at around $15 million, but I bet you could make a sweet deal and pay a lot less.
The company has been in bankruptcy since April of 2018, and this appears to be a last-ditch attempt to get some capital and avoid complete liquidation.
What you'd be paying for would be a factory to build licensed Daewoos, which I'll admit isn't really all that exciting. What I'd suggest you could do with the factory, though, is to introduce some modernized versions of the classic, iconic Zaporozhets cars, which I'm going to make you learn about now, so prepare yourself.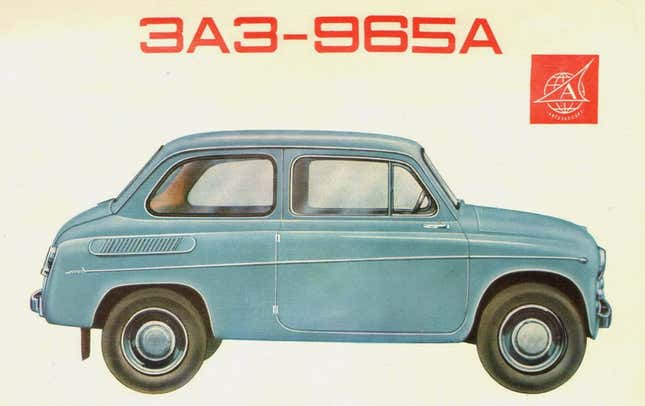 ZAZ got its start back in 1958 when the Soviet Union realized they needed an affordable car for everyone, along the lines of the Volkswagen Beetle or the Citroën 2CV. They studied a lot of Western offerings, and selected the Fiat 600 as the baseline car to use as a template.

The resulting ZAZ-965 does sort of feel like a Fiat 600 with a bigger butt, and in that butt was a very different engine than the 600's inline, water-cooled twin. The engine, known as the MeMZ-965, looks a bit like the VW air-cooled flat-four, but is actually a V4, with the 90 degree angle between the cylinders chosen to make everything much more accessible to the owners, who would very likely be doing their own maintenance and repairs.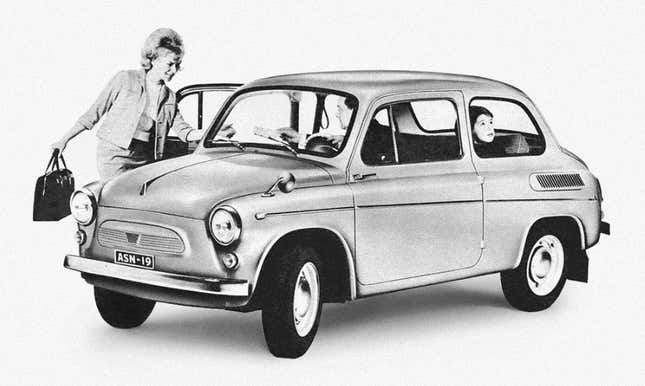 Despite being somewhat underpowered (23 horsepower at first) and with build quality that was questionable at best, the ZAZ-965 enjoyed the sales advantages of being the only choice, and as such was quite successful.
Most Americans only exposure to the car is likely from this scene in the 1995 James Bond movie, Goldeneye:
You do get a good look at the 965's big cooling fan there, right before the guy smacks it with a sledgehammer to get it running.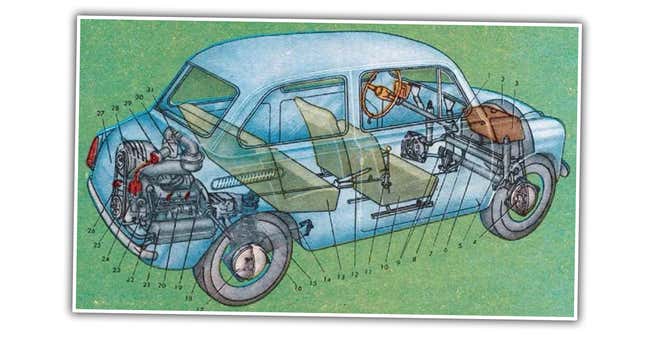 After the hunchbacked 965, ZAZ took the same basic mechanicals and re-packaged them into a new car, the ZAZ-966, which came out in 1966, and continued on (updated as the ZAZ-968 and 968M) all the way until 1994.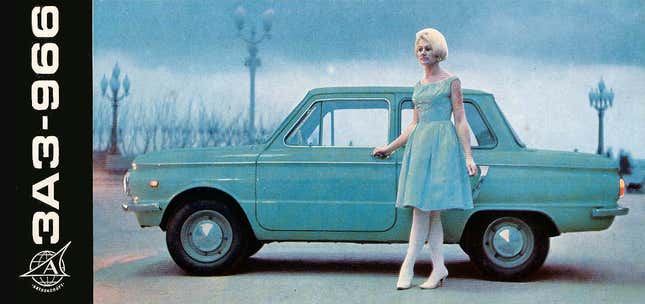 The ZAZ-966 completely re-designed the body, creating a small, clean, handsome little square-rigged two-door that was clearly inspired by the Chevrolet Corvair, something that it shares with many cars of the era, including the NSU Prinz, Hillman Imp, and even the BMW 2002.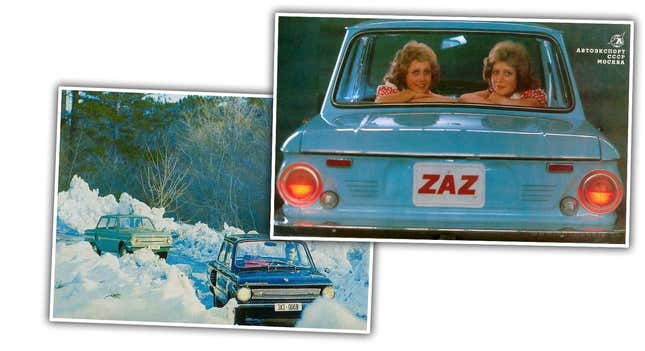 Of all these cars, the 966 most resembles an NSU Prinz, which isn't a bad thing at all. It was a fairly spacious and usable entry-level car, and the rear-engine/rear-drive layout gave it decent traction in the harsh Russian winters.
In 1987, ZAZ released the ZAZ-1102 Tavria, a modern, front-engine/FWD hatchback that brought fairly up-to-date motoring to the lower end of the Soviet market. Commercials liked to tout the car's efficiency, especially to really hyperbolic degrees:

In the late 1990s, these home-grown car designs gave way to license-built Korean Daewoos, later owned by Chevrolet. An effort to revive things in 2016 saw the introduction of the Slavuta Nova, a copy of the Chinese Chery Riich G2.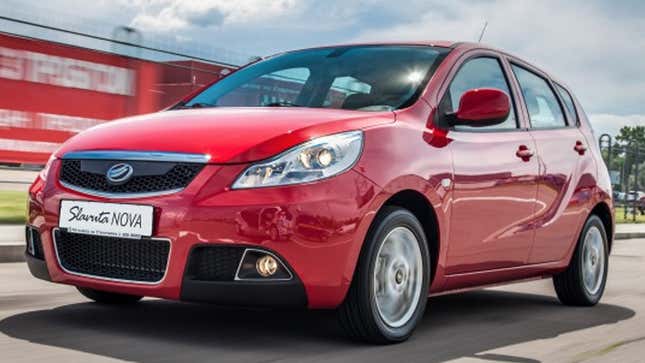 This hasn't proved enough to keep things really going, and ZAZ only managed to build 131 cars last year.

Still, this could be good news for you! Now's your chance to own a car company! Grab your checkbook!