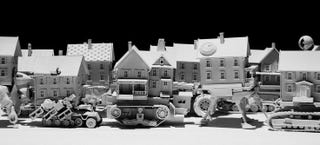 If there's one thing that makes me happy in this world, it's mind-bending transportation proposals. And that's where this print comes in.
It's from the mind-benders at Terreform ONE, a New York City-Based non-profit sort of design/architecture that works on design proposals for a better, environmentally-sound world. I used to intern for them, and I still absolutely adore their proposals. When they wanted to design a new house, they planned how to grow a full family home out of a tree. Not a treehouse, a house made by growing a tree with a house-shaped space in it.
When they want to figure out how to fix suburbia, they came up with a great proposal for mobile houses, where people lived in an ever-shifting highway city.
They called the project 'Homeway' and here's their little brief:
How can our cities extend into the suburbs sustainability? We propose to put our future American dwellings on wheels. These retrofitted houses will flock towards downtown city cores and back. We intended to reinforce our existing highways between cities with an intelligent renewable infrastructure. Therefore our homes will be enabled to flow continuously from urban core to core.
I always loved the idea, and if I had $160 to spend on something non-Beetle related, I'd pick up this sweet 8x24 print of their scale model.
You can pick it up at Terreform 1's new online store right here.