When we look back at the post-WWII automotive designs pouring out of manufacturers, we probably would think of them as "modern" by today's standards. But at the time, the industry was ready for something fresh, and engineers were ready to deliver. Tons of concept cars showcasing the future appeared at exhibitions while their more streamlined aerodynamics and sleeker, more exotic bodies became the norm in the market.
And then there was the 1965 Mercer-Cobra Roadster.
Legendary Chrysler designer Virgil Exner was approached by Diana Bartley from Esquire magazine with a task: figure out a way to express classic cars through modern confines. It could be a difficult venture, but someone like Exner was up to the job.
And what Exner pulled off is a pretty incredible feat of automotive artistry. He created four designs for Esquire, one of which was especially a big hit. He essentially modernized the 1910 Mercer 35 Raceabout, which was popular even back then.
But Copper Development Association really loved the updated design. After the Association's president, George Hartley, saw the Roadster in Esquire, he immediately got in contact with Exner to see about actually building one of these beautiful machines.
G/O Media may get a commission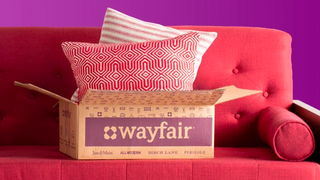 Big deals
Wayfair Surplus Sale
It made sense to use a Cobra chassis, since their series production and Ford drivetrain kept the prices down and created an already-good looking base. Exner then worked around it to create one of the sleekest looking cars in history (in my humble opinion).
The postwar era was also a time when automakers started experimenting with new materials. Harder plastics were being developed and different metals were being utilized—and that modern take on experimentation was channeled into Exner's design. That's what interested the Copper Development Association—it seemed like a perfect way to market their own products in an interesting, classy way.
With the design and materials covered, all Exner needed was someone to bring his vision to life. Sure, he had his Chrysler connections, but Exner felt the Mercer-Cobra Roadster was going to need a special touch. So off he went to Turin, Italy to pitch the idea to Carrozzeria Sibona-Basano, a body shop, who fell head over heels in love with the idea.
The Mercer-Cobra Roadster debuted to a wealth of well-earned fanfare. It managed to be both classic and futuristic in an era when blending the two seemed impossible. It had a long, narrow design reminiscent of old roadsters, but the sweeping wing fenders looked more like those on a space-age concept car. They kept things subtle and opulent at the same time, a very casual way of displaying wealth and style without being too in-your-face about it.
The thing that really sets the Mercer-Cobra Roadster apart from the rest of the pack, though, was the role that the Copper Development Association played. Eleven different metal alloys were used throughout the car, and the beautiful use of copper and brass accents were the kind of jaw-dropping touches that make the car look rich.
And while the exterior of the car includes plenty of metal, it's the interior that really shines. The amount of copper and brass detailing included in the steering wheel, center console, doors, and dashboard was incredible and provided a really classy contrast to the black leather seats.

The Roadster also achieved a modern interpretation of the speed that a Roundabout might possess in the modern day. It was equipped with a 289 cubic inch V8 Cobra engine with a four-speed manual transmission. And, yeah, I'm real jealous of anyone who got to take that bad boy for a spin at max capacity.
After it did its media spin, the Roadster changed hands between multiple well-respected collectors before ending up as part of the Lyon Family Collection. It went to auction back in 2011 where it sold for $660,000—which, honestly, doesn't seem like much when you consider its rarity and beauty.
I've written about quite a few strange looking concept cars in my time here at Jalopnik, but the Mercer-Cobra Roadster is one of the most beautiful pieces of machinery I've ever laid eyes on (via photograph; I am not the rich fella who bought it). It's a testament to the fact that art and engineering can exist hand in hand without compromising any of the function.
And hot damn do I wish I had a few spare hundred thousand laying around.