On Sunday, November 4th at 7:20 AM, United flew their first passenger flight with a Boeing 787 Dreamliner. It was a smashing success and a total sham all at once.
First, let's get that sensationalist lede out of the way. The flight was a success in every way. As a man behind me exclaimed to the cabin's amusement after we took off, "Well, it flies." And it flies well.
The reason I say it was a total sham was because there were, by my own estimation, maybe 5 passengers that were there to actually fly from Houston to Chicago. And they were very confused, because it was more of a party for United employees and frequent fliers than it was a true passenger flight. My brother and I had flown to Houston for the sole reason of getting on this flight.
We really had no need to go to Texas, though we did enjoy it.
G/O Media may get a commission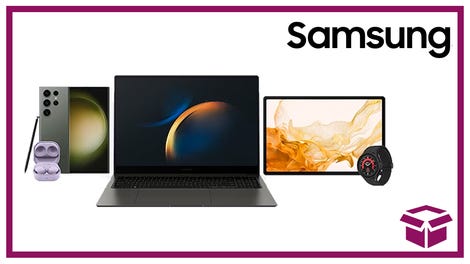 24 hour deals
Discover Samsung - Daily Deal
And in the interest of full disclosure, I'm really not terribly knowledgeable when it comes to planes. That's my brother's thing. It was mere coincidence that we ended up sitting next to the assistant to the CEO and across from the CEO in Economy Plus, as I have no affiliation with United and was not representing Jalopnik. I was just a regular guy in a flannel shirt mucking up their sexy new aircraft.
But onto the experience. The flight went from one United hub to another, and they staged parties/gatherings/celebrations/press conferences at each end. This is the one in Houston, where the Houston hub manager, the pilots, and the CEO (Jeff Smisek) spoke, and where they offered free breakfast (some tasty croissant sandwiches and danishes). Mr. Smisek's name was on the upgrade list, because, amazingly, he did not have enough status with United to get into First Class. There were frequent fliers that had more points than the frickin' CEO of United.
They also offered these cool 787 cookies, which I completely forgot to photograph before I had eaten/broken all of them. So I do apologize for the photo, but I can report that they were rather tasty.
Our first view of the 787 at gate E5! It was very early and therefore still dim outside, so a good shot was tough. It was a nice chance, however, to see the sloped wings and absolutely massive GE engines.
Once on the plane, there was some nice United swag waiting in the seat pocket. A small poster, a message from the CEO, and a fact sheet about the 787. All in all a decent souvenir. But the best souvenir would be the flight itself, and we were eager to take off, which we did only 3 minutes late at 7:23 AM. This was despite nearly everyone's refusal to sit down, as they were too busy taking pictures of anything and everything.
Take off was fast and smooth. Despite all the hype, you're not going to be particularly blown away by how moist the cabin is or how it's pressurized to 2,000 feet lower than a normal plane. What you will notice, however, is that it's surprisingly quiet. GE designed the engines to reduce noise, and they did a fantastic job. This is economy car at highway speeds quiet, nothing like a jetliner I've been on before.
The economy cabin was fairly typical of a contemporary plane, though it reeked of newness, which was pleasing. And as on any modern flight, we got to do the fun part where you walk past the first class passengers lounging in their beds and wish you were a Duke instead of an intern at some poky motoring website.
The entire cabin, economy and first, feels spacious. I think this is due to the cathedral high ceilings. The assistant to the CEO agrees with my theory.
And speaking of first class, their multimedia screens were downright enormous. Like, bigger than my first TV enormous.
The screens in economy were nothing to sneeze at either (though surely many will do just that.) They're much higher resolution than on any other jet I've ever been on, and they're touch screens. They're no iPads. There's no Retina Display or capacitive touch or pinch to zoom on the map, but they get the job done. And United offers a truly wide array of entertainment options on them. The Dark Knight Rises and the Total Recall remake were already on there! Very impressive. And for your viewing pleasure, the airline has finally got with the times and offers you a widescreen, rather than square, seatback screen.
The seats were typical economy seats. They were a bit nicer because they were new, obviously, but nothing out of the ordinary. My brother noted, however, that they would be almost completely flat with all the armrests up. So if you ever find yourself on an empty flight (maybe in 1999 or something) they could make a pretty good bed! Boeing made the 787 ride so smooth that it would be pretty easy to fall asleep on your bed-seat, too.
But there were only one or two empty seats from no-show passengers that missed out on an 8 AM champagne toast. The CEO made a nice little speech beforehand, and everybody on the plane was offered it for free (a nice change). The flight attendants were also careful to call it sparkling wine, so as not to upset the French, but I'm less sensitive.
The windows are, indeed, pleasingly larger. They're big squovals. (Like squircles but more oblong.)
Their party piece is the tinting. With two light/dark buttons below the window, you have control over the electrochromatic tint of your window. (And if you have two at your seat, lucky you, they're synched.) The CEO tells us that there's an internal debate at Boeing over how dark to make them, as different airlines are requesting different darknesses and Boeing wants to standardize it. He says United's vote is for as-dark-as-possible, and I stand with him.
At the moment, unlike a traditional shade it'll never completely obscure your view outside, but it does make the cabin impressively dark. The "International Director of Something Customer Service Related" (my paraphrase) assures me that this will make flying much better, as on long flights they'll be able to automatically dim them all to allow you to sleep and undim them all when you're closer to landing. Huzzah! No more uncurious-window-sleepers ruining your view.
Also making flying better is the lighting. Like the windows, it'll be controlled from the front and try to replicate daylight and sunsets and such to make something like a 17-hour flight to Asia feel as natural as possible. No word yet on any onboard laser shows, however. Check back for updates.
Lo, the bathroom is improved as well! The sink is no-touch, meaning you don't have to annoyingly pump it while you attempt to wash your hands. It also offers you digital heat adjustment, with a light that moves closer to the blue or the red depending on what you push. The toilet flush is, however, just as terrifying as ever, for those of us whose older brothers told us it might suck you down and shoot you out of the plane if you're not careful.
There's an outlet under each seat that can fit the typical plugs from just about every country. There's also a USB power outlet next to the entertainment screen. (As you can see, passengers are already treating the 787 like any other plane, depositing their pretzel trash wherever they damn well please.)
Overhead lights are controlled by a button under the TV. Fan adjustments are easy. Nothing revolutionary, but all little improvements. No known difference in the overhead compartments, but I presume they're good. Not an overhead compartment expert here.
Our firetruck welcome after a smooth and applause-inducing landing at Chicago O'Hare.
Overall, the 787 isn't going to knock your socks off. It's not a Concorde-style visible break from traditional airliners. Its revolutionary change isn't the shape or speed, but the composite body that makes it both lighter and more aerodynamic, allowing it to sip fuel. (At cruising speeds, the pilot informed us that it was using about 9,000 pounds of fuel per hour, as compared with a typical 14,000 for a less advanced jet.) But just because it's not an obvious revolution to the passenger doesn't mean that it's not a huge step forward.
It's quieter, smoother, and more comfortable. You'll enjoy the better view and the less industrial lighting. Everything about it is just nicer. After you disembark you won't say, "I can never fly on anything that's not a 787 again." But you won't want to, and boy, that Airbus A320 you take to connect to Newark will feel outdated. The 787 isn't a massive step forward like a Ford Model T, but it may well be the Tesla Model S of airliners. Time will tell.
#GPOCHD (gratuitous picture of Chicago hot dog)
Photo Credits: gkphoto01 (top)Thomas McIntyre (all others)