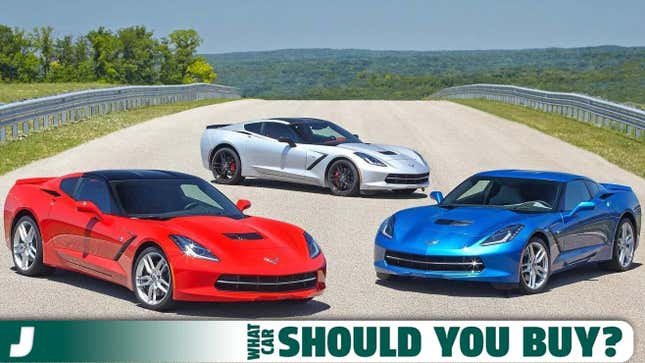 Mike is looking for a mid-life crisis car, but not just any ride he wants something with a nice V8 under the hood. Even though he can turn a wrench, he doesn't want a constant project. With a budget up to $60,000, what car should he buy?
(Welcome back to What Car Should You Buy? Where we give real people real advice about buying cars. Do you want us to help you find a car? Submit your story on our form.)
Here is the scenario.
I want my mid-life crisis car! I'm getting to a point in my life stage where I can begin working on things/projects that's only for me (kids are getting older) and I got the yellow light (slowing changing to green) by my CFO(wife) so I'm beginning to look for my next car that I can enjoy driving/wrenching on for the next decade or so! I like to wrench more than drive but because I'm aging I'd rather drive than wrench at this point (I want more reliability than fun and fragile) in my life. It's going to be a fun car mostly but will need to help out with hauling the kid/s around every now and then.

- Ideally 8-cylinder but any powertrain that equates to less than 9 lbs./hp (vehicle curb weight/horsepower) - Fun to drive (maybe even scared to death to drive but not sure since I do have kids I want to see grow old) - Manual (but would settle for an automatic) - Impractical is okay (as long as I can squish my kids in the back on the rare occasion I need to) - Ideally a coupe (but I would consider a convertible, hatchback, sedan, wagon)

Budget is up to $60,000
Quick Facts:
Budget: Up to $60,000
Location: Seattle, WA
Daily Driver: Yes
Wants: V8 power, reasonably reliable, usable back seat
Doesn't want: Something too fragile
Expert 1- Tom McParland: V8 Power, Far From Fragile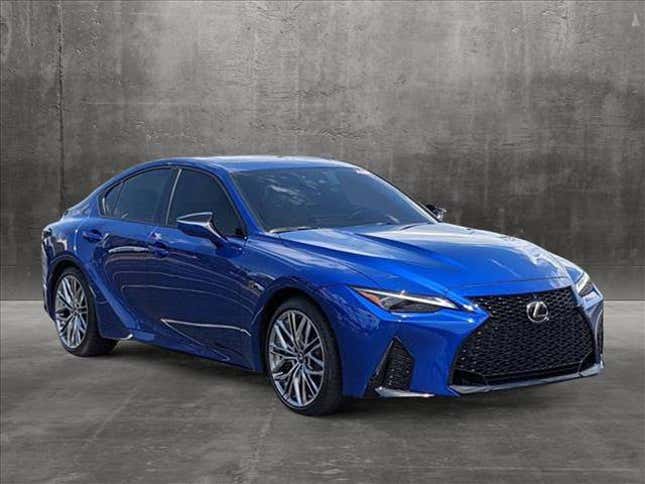 There is something special about driving a V8-powered car before they all go by the wayside in favor of electrified powerplants. Of course, as these big motors get phased out, your options are fairly limited to mostly American muscle or high-spec European stuff. The former is certainly a good option but may not be what you are going for; the latter can be risky in terms of maintenance costs.

However, there is a middle ground that as you say prioritizes reliability over fun and fragile: that is the Lexus IS500. This car has a five-liter, naturally aspirated, V8 under the hood making over 470 hp. With a curb weight of just under 3900 lbs, you are looking at a hp:weight ratio of about 12 lbs:1 hp. So that is a bit over your target, but this fast Lexus will sprint to 60 in about 4.3 seconds and I have a hard time believing that level of acceleration is going to feel "slow."

The real benefit of the Lexus is the durability. Outside of your usual maintenance, you shouldn't have to worry about long-term running costs so this IS500 can become a reliable ride once you are over the whole "midlife crisis" thing. The only real downside is that these are not common in your region so you will likely have to ship something up to Seattle, like this one in FL in a very sharp Ultrasonic Blue.

Expert 2: Collin Woodard - Save A Little Cash For Tires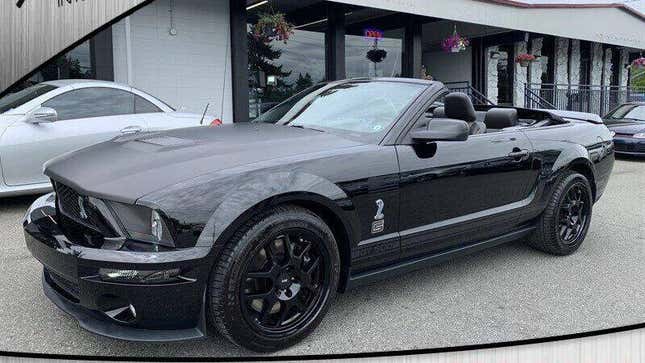 Mike, I have great news for you. Tom suggested something reasonable, so I am now free to suggest something a little more ridiculous. And while it's a car that isn't brand new, it's definitely a car that screams midlife crisis in a way that a Corvette can't. Corvettes are stereotypical midlife crisis cars, but they're too reasonable. Too common. Plenty of people buy Corvettes just because they want one and can afford it. Instead, I say you should get a Ford Mustang.
Not just any Mustang, though. Newer Mustangs are fast, but they're too refined. I want to see you behind the wheel of something that makes you feel alive. Something that's an experience, whether you're on a winding mountain road or just running to get groceries. And as we all know, the best way to feel alive is to look Death in the eyes and wait for Death to blink. Let's get you into a 2009 Ford Shelby GT500 convertible.
I was hoping I could find a GT500 coupe in your area, but for whatever reason I came up short, so the convertible will have to do. If you want a midlife crisis car, though, the convertible is probably better anyway. You get 500 hp from a supercharged V8, a live rear axle, the wind in what's left of your hair and a healthy dose of chassis flex that will make every drive a true adventure. You'll be roasting tires, making big V8 noises and generally having the time of your life.
Is a Lexus going to offer you any of that? Of course not. There's nothing remotely dangerous about a Lexus. It doesn't even have a manual transmission. Even better, the GT500 I found will leave you with just over half of your budget to buy tires. And trust me, when you buy a GT500, you're going to want to make sure you have a hefty tire budget. But would you really have it any other way?
Expert 3: Lawrence Hodge - Get Something That No One Else Wanted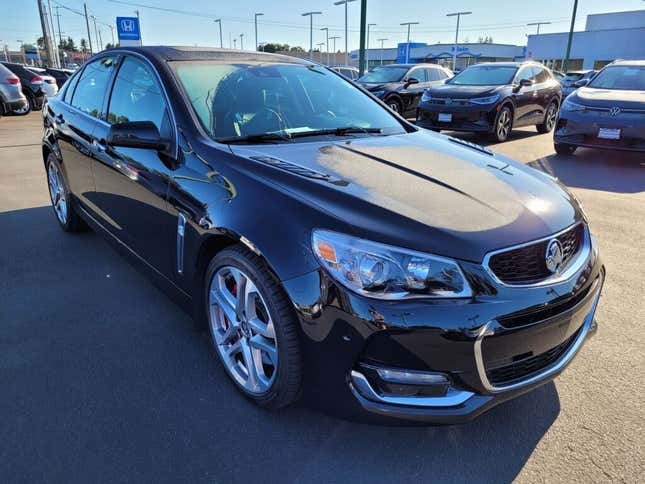 Mike, it sounds like you need something that you'll enjoy driving for the forseeable future, and something you won't see too many of on the street. Something unique. That car is the Chevy SS. It checks a few of the boxes for you: 6.2-liter 415 hp V8, rear-wheel drive, big sedan with a decent sized back seat.
At this point it's safe to say the SS was a dud for Chevy. Just under 13,000 were sold over the five years it was on sale. And because of the demographic that bought these things, that means you can find them used now in great shape with relatively low miles and well within your budget. They've held their value though and in some instances can go for nearly as much as they were new.
This example I found just outside of Seattle in Everette. It's a 2016 one-owner SS. Whoever owned it even went so far as to remove the Chevy badging and replace them with Holden ones, something you definitely don't see everyday. With just under 38,000 miles on it the dealer is asking $43,000 for it. Do yourself a favor and go check it out. You'll probably end up signing the papers and taking it home.
Expert 4: José Rodríguez Jr. - Skip The Crisis And Live Your Best Midlife In A Wagon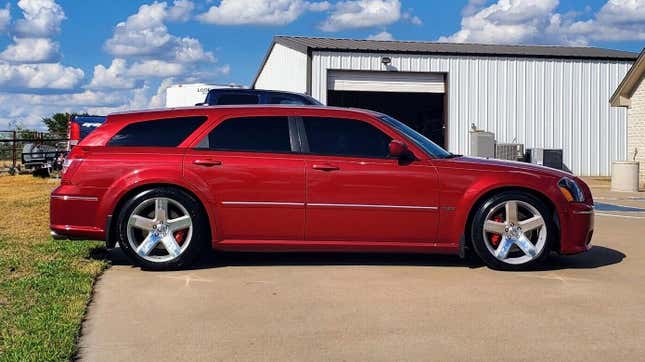 Mike, if you want a V8 coupe, then just get a BMW M3. There are plenty of E9X M3s around, and you can easily find them with a stick shift. These "newer" M3s will have a bit of room in back that makes for a passable rear seat, and since you do your own wrenching and maintenance, you'll likely avoid the pitfalls of an aging performance car from Bavaria. Or, skip that mess altogether and just get a Dodge Magnum with a Hemi in it, like this 2006 Dodge Magnum SRT8, which comes in at under half your $60,000 budget. Talk about a bargain.

I understand that you're looking for a midlife crisis car, but that doesn't mean you have to suffer the inconvenience of not owning a wagon, which is objectively the best kind of car. But far from a slow (if lovable) brown wagon from Sweden, you can get the best of all worlds with a low-flying highway cruise missile like the Magnum and still get that 'honkin V8 you seek. In the case of the SRT8, that's a 6.1-liter Hemi V8 making 425 hp and 420 lb-ft of torque.
It'll do 0-60 in just over five seconds, and did I mention it's a rear-wheel drive wagon? Look, if you want a midlife crisis coupe, by all means go M3. I'm an unabashed BMW stan, but I can't shake the feeling that a bimmer needs a straight six in the engine bay. Or an inline-4. Or a V12, come to think of it. Huh. So maybe a V8 really is OK for a BMW, but there's something unnatural about it, whereas an American muscle car wouldn't be the same without a V8. The term "Hemi V8" just rolls of the tongue, and though I can't explain why, it makes me want apple pie and milk. All I'm saying is you can have your pie and eat it, too. It's time for a sleeper wagon. It's time for a Magnum.