There's a particular moment you have, I think everyone has, when you start your first trip on the road in a GT-R. The transmission clunks in second, the rear end emits expensive-sounding rumblings, and the whole body shudders. You think to yourself, isn't this kind of terrible? Here's how I came to love that grumbling terribleness, and it has everything to do with a racetrack.
Well, two racetracks, actually. I ran a new GT-R at New Jersey Motorsports Park's Thunderbolt and then Lightning tracks as part of Jeffapalooza, an awesome season ending track day with open passing and a ton of great cars. One big and fast, one small and tight. One that let the car stretch out and one that restrained it in. The car bonked 135 at the end of one straight, 140 on the other.
This was my second time driving a GT-R, both of which were more ordinary daily driver-spec cars, still priced well into the six figures and throwing 545 horsepower at all four wheels. The first drive was on a deserted country backroad, and it was an exercise in frustration. It's hard enough keeping a big butt GT-R in its lane at any speed, but not straying over the yellow line on a winding road was a constant effort. The car could transport itself into triple-digit speeds at the slightest hint of a straight, but that was more worrying than anything else. I didn't want to go to jail that day.
G/O Media may get a commission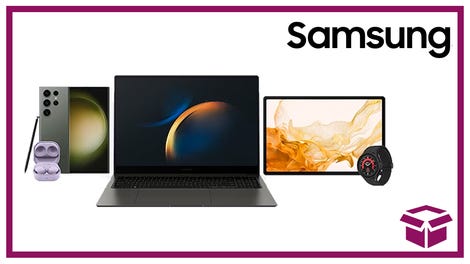 24 hour deals
Discover Samsung - Daily Deal
The feeling you get driving a GT-R on the road is not that you're bored; it's that the car itself is bored. And that makes you feel inadequate. And bitter.
I got more of that driving the two and a half hours down from NYC to NJMP. I thought the car would be an easy highway cruiser, what with it weighing five tons and being larger than some school buses. This is not the case. Getting onto the turnpike, the car was darty. It wandered around its lane, oversensitive to the pavement, to the throttle, to the somewhat heavy steering. The transmission grumbled at every low-speed shift, and the GT-R felt both leaden and nervous at the same time.
Bleary-eyed at five or six in the morning, I did not enjoy these qualities.
And things did not start well for me even when I got on the track. I followed my coworker Travis in a Camaro Z/28 down the front stretch and nearly plowed into his back bumper going into turn one. I copied his braking point, but he had carbon ceramics and I... didn't.
The next few laps got worse. I dropped wheels on a couple of different corners, rushing too fast in, and plowing wide. The little glimmers of oversteer I got when a tire hit the dirt was as much rotation as I got out of the car for my first hour or two.
But then I started really learning the track, and then I started really learning the car.
The GT-R may be equal parts inert and fidgety in cold highway traffic, but it gets up on its toes and smooths itself out when you can really commit to a corner. When you have room to let the car transfer its weight left and right through wide esses. When you finally get your line right braking for a blind crest into a falling, narrowing turn. There's a transition as the car gets light, and the all-wheel drive feels like it's shuffling cards. Then that almighty shove returns, pulling you back as it rattles up to a hundred, a hundred ten, a hundred I can't even look any more.
When you first drive a GT-R, there's no way you can anticipate how alive it will feel moving around under braking from fifth into a third-gear left hander. You just think that the car is crappy. And even when you do what everyone else does — launch it — you can't imagine how sweet it will feel waiting for that sharp left to straighten out, the wheel unwinding and your foot falling deeper into the gas pedal.
A lot of people dismiss the GT-R, hate the GT-R. I figure this has something to do with the people who buy it and why they do. It's a fast car. It goes very quickly. People who want a car to go fast buy it, they go fast, then they get bored. You can only launch a GT-R so many times before it starts to feel a little routine. This is why there are so many tuned GT-Rs with four-figure horsepower numbers; owners are trying to get that unbelievable sensation of speed back from something that's turned ordinary.
The keen (and broke) among the car world can be quick to point out that fast isn't always fun. That having a lot of raw performance doesn't mean fun. And that's a fine argument. I learned that when I tracked my daily driver, a car that doesn't even have traction control to turn off, a car that is slower than some tractors in a straight line, and car whose handling may be best described as 'willfully horrific.'
But plenty of car nerds use this argument to dismiss the GT-R. Just because it's fast doesn't mean it's fun.
These are the exact people who would absolutely love the GT-R, if they just had the chance and the determination to get it moving around on a road course.
Internet commenters: track a GT-R! Step out of your dream BMW E30 and into the big Nissan's bucket seat. Try and learn how to work with the car's hot rod maniac backyard engineering all-wheel drive. Feel it bristle in your hands, catching a little four-wheel slide when you asked too much of all the tires at once.
Drive one on a track and you'll finally understand why the GT-R was made, why it stands as both a mechanical achievement as well as a great driver's car, and why it's worth putting up with its surprising compromises as a road tripper. I did.
Photo Credits: Raphael Orlove