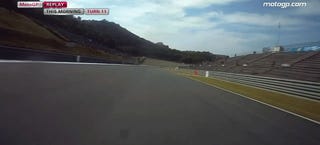 You know your riding buddy that likes to do cute little stoppies at every damn traffic light? Here's Dani Pedrosa showing him how it's really done.
Pedrosa was running in the first free practice at Motegi, where teams tend to fit larger carbon ceramic discs because of the track's massive braking zones. But the Repsol Honda hotshoe apparently wasn't expecting that much clamping power going into turn 11.
He went from over 170 MPH to around 55 MPH, and did it in less than 100 meters. And Valentino Rossi's nose cam caught it all. Skills.