I'll be the first to admit that working for Jalopnik carries certain perks, like getting to do sick Dodge Charger SRT8 burnouts to celebrate your wedding.
Earlier this month Mrs. PG (that title is official now) and I tied the knot after years of living in sin, and so my boss and friend Matt Hardigree came to Texas to attend the ceremony.
But when you're Matt Hardigree, you don't just drive around in some lame-ass Rent-A-Rolla you got at the airport. No sir. You roll in something badass wherever you go, like the 470 horsepower Hemi V8-powered Charger SRT8.
G/O Media may get a commission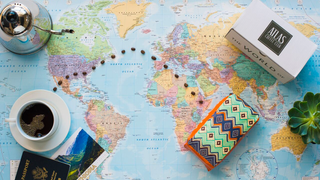 First Bag Free
Atlas Coffee Club - Free Coffee
Explore global coffee
With each bag, Atlas includes details on the coffee's tasting notes and a postcard about the region and its coffee history. And when you subscribe, you have options to tailor frequency, grind size, and roast preference of your beans, so you'll always be brewing the perfect cup.
And so Matt and I, along with motorsports photographer and friend of the site Kurt Bradley, celebrated in the most America-tacular way possible: ripping sick wedding burnouts.
(The Dodge Durango was mine because I needed a lot of space to haul wedding stuff in. It did not rip sick burnouts, but its V6 engine was surprisingly decent on gas.)
Oh yeah. Look at that one. That's some good America, right there.
See that line of rubber on the road? That's the road's way of telling you, "You're doing it RIGHT!"
I love the smell of tire smoke in the morning.
Everyone should do burnouts to celebrate their wedding. I highly recommend it.
Photos credit Kurt Bradley