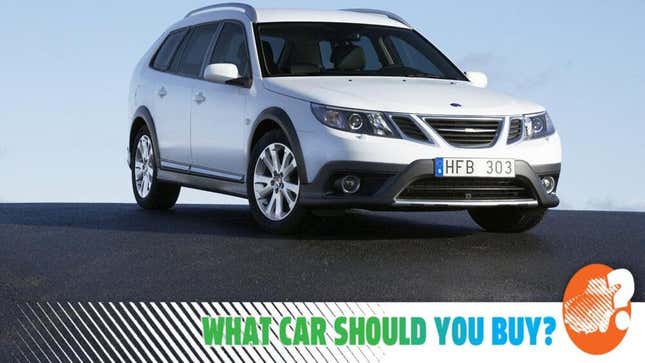 Joe is an engineer from Michigan, and boy does he have a challenging ask for this week. With a $15,000 budget, he wants something reliable, with four-wheel or all-wheel drive, that's spacious and, most importantly, has three pedals. Also, he wants it to be newer than 2010, ideally with under 100,000 miles. What car should he buy?
(Welcome back to What Car Should You Buy? Where we give real people real advice about buying cars. Do you want us to help you find a car? Submit your story on our form.)
Here is the scenario:
I'm a mechanical engineer in SE MI with a love for the outdoors and my homies. My current 2013 VW CC sport is a fun car, but it's serially been racking up some serious repairs, such as doing all the brakes twice in a year, clutch slave cylinder the second day of ownership, (formerly) leaky water pump, the list goes on. The cargo space is also sorely lacking when it comes to moving boxy stuff, and it just rolled over 102k miles. It's a great, efficient car with some spicy attributes like the 6-speed that was great on my last commute, which was 80 miles round trip. Now that I'm about 10 miles from work, I don't need the efficiency as much and want something more reliable and practical that won't break the bank.

I want something reliable, with good cargo space (SUV, truck, wagon), manual (a must!), AWD/4x4, and preferably with less than 100k miles and newer than 2010. Good fuel economy is a plus but not absolutely necessary. Good aftermarket support for mods and Apple CarPlay is also a plus. I have a max budget of $15,000
Quick Facts:
Budget: Up to $15,000
Location: Macomb County, MI
Daily Driver: Yes
Wants: Reliable, manual, spacious
Doesn't want: An automatic
Expert 1: Tom McParland - So Close…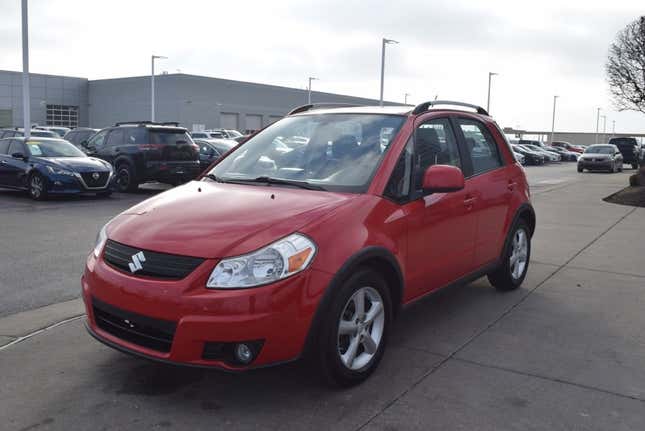 Joe, this was a tough one, especially once we narrow things down to only manual cars. Needless to say, this requires a wide net search, but I did find a viable option that just misses your mark, but only slightly. Here is a 2009 Suzuki SX4 with both AWD and a six-speed manual. It has just over 97,000 miles. The wagon-hatchback body and folding seats mean it will hold plenty of stuff.
While it is only one year older than your request, at $7,500 it's also half your allocated budget. I always thought these Suzukis looked like everyday rally cars that just need a few easy mods to turn them into something really fun. And with several grand left over that's plenty of cash to add CarPlay, do any necessary maintenance, and then splurge on some big mud flaps, some knobby tires, and rally lights.

Expert 2: Andy Kalmowitz - It's Subie Time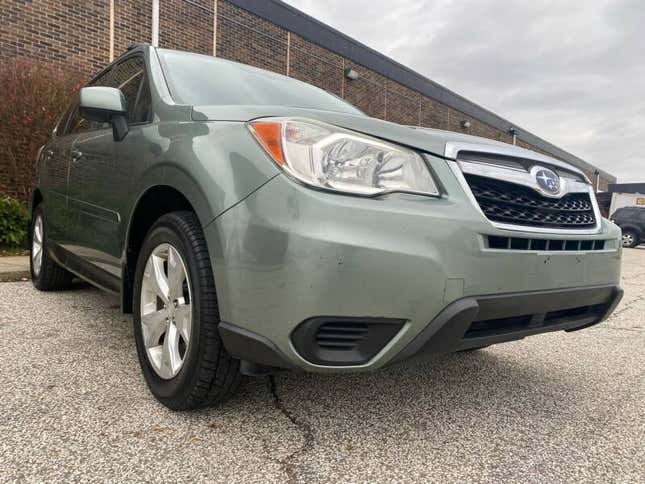 Joe, I know a thing or two about Volkswagens that break down all too often. They're great little cars, but it's time for something different, and buddy, have I got the perfect next car for you. It's the fourth-generation Subaru Forester. I mean, man, is this not exactly what you're looking for?

A 2014 Forester checks literally every single one of your boxes. It can be had for under 15 grand with less than 100,000 miles, and you can get it with God's choice of transmission. It also has plenty of space for whatever boxy shit you're carrying around. It'll be reliable for you on your incredibly lengthy 10-mile commute, and on top of all that, Subaru was gracious enough to fit the Forester with a standard double din head unit. That means switching over to an Apple Carplay-capable screen shouldn't be too much of a task. Hell, it even gets decent gas mileage. Is the Forester going to be the most fun car you can buy? Absolutely not, but Joe, it is going to do exactly what you need it to do.
Because I'm a great guy, I found the perfect Forester for you. It's located a couple hours away from where you live, and who doesn't love a little road trip? This particular car is a lovely light green color with a beige interior and only has 81,000 miles. That's not too shabby for a car that's nearly 10 years old at this point. It comes in right under your $15,000 budget as well. What's not to love? Do the right thing, Joe. Buy a Subaru Forester.
Expert 3: Collin Woodard - A Few Extra Miles Won't Hurt You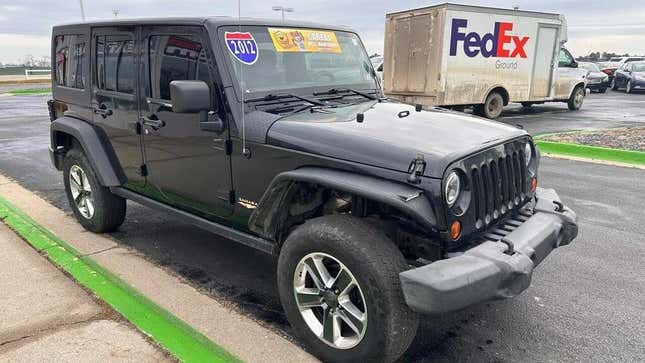 Joe, you're really putting us in a tough spot here. Used car prices are still crazy, which means finding something that will make you happy is much harder than it would have been three or four years ago. Then again, that's probably why you turned to us, your trusted team of automotive advice-givers. And as you can see, you already have two solid suggestions that you may not have considered.
But I say go with a vehicle you've probably already considered. It's the obvious choice for a reason, especially in rural Michigan where a little extra ground clearance never hurts. Yes, I'm talking about the Jeep Wrangler. Four-wheel drive? Check. Cargo space? Check. Manual transmission? Check. Aftermarket support? Check. The only issue is finding one in your price range with low enough mileage.
Unfortunately, looking around your area, I couldn't find a Wrangler that met your exact requirements. But if you're willing to accept a vehicle with a few more miles than you're looking for, head on over to Waterford Township and pick up this 2012 Jeep Wrangler Unlimited Sahara. It has just under 120,000 miles on the clock, costs a bit less than $15,000, and should stay warmer than the soft-top. It's the correct choice, but I'm willing to bet you already knew that.
Expert 4: Lalita Chemello - Choose Your Own Jeep Adventure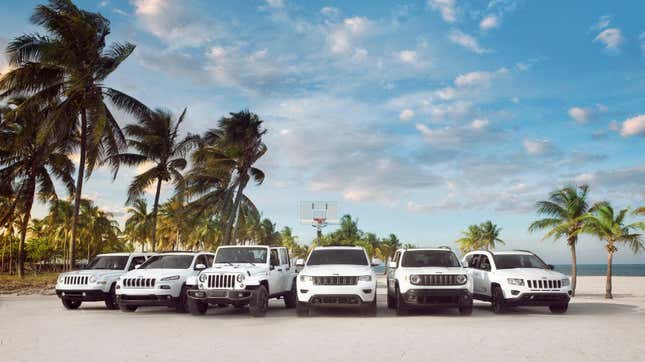 Joe, I simply won't rehash the thoughtful arguments my colleagues have already put to paper (or screen in this case), but I will say they are all right. To accommodate your preferences is a tricky game, and chances are you might have to give a little on one of the parameters, to get something you truly love. Or maybe, you don't have to.
While Collin's suggestion of a Wrangler is a solid one (coming from a Michigan Wrangler Unlimited owner), it might still be a bit much for your day-to-day. It's perfect for West Michigan adventures, but in Macomb? You can get something that is still fun, and a little more affordable. That's why I'm suggesting the Jeep Renegade.
Yes, it's built on the same platform as the Fiat 500X, but the Jeep clearly wears it better. The Renegade has been available with a manual, as well as Jeep's 4x4—giving it the capability to still be fun and handle Michigan's plentiful adventures. It's also small enough that it's hella easy to park in downtown areas for nights out. The tall truck-like cargo/seating area also provides ample room to carry things around. If I can fit an entire IKEA trip into a Fiat 500, the Renegade can do it as well, two-fold.
I found this used 2017 Jeep Renegade Sport in yellow, just over the border in Ohio for just over $12,000 with 87,000 miles on the clock. But you can look around and find them for varying, budget-friendly prices well under your 100,000 miles request. Now, if the Renegade is a little small for your taste, the Jeep Compass in the Latitude or Sport trims are a little trickier to find in your criteria, but are there and with a manual, as well as a Jeep Patriot, if you want even more space. Regardless, a Jeep could satisfy your every need.