Andrea owned and loved one of the most polarizing cars ever made, the Pontiac Aztek. She ran that car to 350,000 miles and had to part with it. Now she is on the hunt for something with the same kind of "charm." What car should she buy?

(Welcome back to What Car Should You Buy? Where we give real people real advice about buying cars. Do you want us to help you find a car? Submit your story on our form.)

Here is the scenario:
I'm in need of a car. And I don't have a clue where to start. My last cars were a 2001 Saleen Mustang convertible, a modded 2000 Mustang convertible GT, a 2012 BMW X3, and the total love of my life a 2003 Pontiac Aztek. I now drive a 2013 genesis.

I keep my cars forever, killed the Aztek at 350k, the GT was destroyed by a Lexus SUV driving over my front end, the BMW I lost in a divorce, and the Saleen went to a friend when I moved. I just sold my Saleen. And the Aztek has been gone for almost two years.
What I need: something as kind of crazy as both those last two vehicles. The Saleen+Aztek. I'm now I SoCal, back home after 25 years in the Midwest.

Here's my unicorn:

- Something different/unusual (yellow Aztek)

-Something cool (yellow Aztek, Saleen convertible)

-Not a manual tranny (SoCal/Orange County traffic)

-Something that can handle passenger with limited mobility

-I would like to avoid the infotainment crap.

-Decent MPG

-Not BMW or Mercedes. Although I did like the BMW X3.

-No convertible, but would love the sun/moonroof.

-New or used

-Nothing that is really unreliable. I'd like to not deal with repairs: issues, I don't want to wrench on the car.

- I'd adore a weird color. Loved, LOVED that yellow Aztek.

- I'm also open to an EV since I don't drive that much.

If they still made an Aztek I'd buy that. I LOVED that car.

Price: Tough question. I would love get something cheap around $15,000 but I think I need to spend a bit more to get something nice and would go up to $35,000.
Quick Facts:
Budget: Up to $35,000 but the cheaper the better
Daily Driver: Yes
Location: SoCal
Wants: Weird, different, colorful, but reliable
Doesn't want: Something too difficult or expensive to repair
Expert 1: Tom McParland - Get Familiar, But Different
G/O Media may get a commission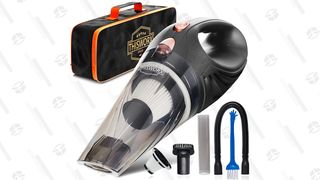 Save 50%
ThisWorx Car Vacuum Cleaner
Andrea, I think it's safe to say you are in good company here with your Aztek love. The strange Pontiac may not have been the most attractive car to come from General Motors, but it was different and practical. It takes a special person to appreciate those cars, and it takes a special person to appreciate my choice for you: the Honda Accord Crosstour.

In making the Crosstour, I imagine Honda had a similar thought process as the designers of the Aztek. Smash a bunch of concepts together and see what happens. On paper, the idea of a lifted Accord wagon with AWD sounded like a hit. In person, it was another story.
But the Crosstrek was a good car if you can get over the looks. It had tons of cargo space in the back, got up to 31 MPG when equipped with Honda's super reliable 2.4-liter four-cylinder, and it was an easy car to live with. Since it's got a bit of lift over the regular sedan it should make it a bit easier for your older companions to get in and out.
Here is one not far from you with under 33,00 miles and a Honda CPO warranty for about $18,000. It's even in a neat blue, but you can always paint it whatever you want.
Expert 2: Raphael Orlove - There's A Whole Genre Of This
Oh, so you want something fun but also easy to own? This was the whole idea behind Nissan's Pike cars, limited-edition vehicles made in Japan in the late 1980s and early 1990s with retro bodies on existing, simple economy car platforms. There was the charming Be-1 hatchback, the Pao mini adventure car, the Figaro convertible and then the extraordinary S-Cargo.
It's like a little tribute to the Citroën 2CV, but built using modern design for power, economy and safety. (These are relative terms.)
They're surprisingly easy to own and more affordable than you'd think. Most of them are white, like this one at Gary Duncan's for $12k, but you could get them in a neat Olive (above) or some cool light blue.
Expert 3: Jason Torchinsky - You Need Some Prime Aged Cool And Unusual
Andrea! Very soon, I think, it's going to be really wonderful to be you, at least automotive-wise. Raph's pick of an S-Cargo there is great, but I think you need something with more room and doors to accomodate your limited-mobility passenger requirement. The good news is you don't have to give up an ounce of interesting/weird/cool to do it, because this amazing 1963 Chevrolet Corvair Greenbriar van exists.

The Greenbriar van was Chevy's answer to Volkswagen's Microbus, but, being American, was bigger and plusher and more powerful. It used the Corvair's air-cooled flat-six (you know, like a Porsche 911) so it could actually beat a winded tortoise on the road, something not always guaranteed in an old Microbus.
I know you want reliability, so the good news here is that this one is in immaculate shape. New doesn't always mean reliable, and old doesn't always mean headaches, especially when it's in as good shape as this one.
It was even in a movie! All this niceness comes at a cost, about $25,000, but that's within your budget and, besides, these things aren't hard to work on or, really, to get parts for.
It's lovely, it's unusual, it's roomy, it's just what you want. Well, it has a manual transmission, but, hey, that's good for your calf muscles, right? And you can be damn sure there's zero infotainment crap here.
You're going to love it.
Expert 4: Patrick George — How Weird Do You Want To Get?
I gotta tell you, Andrea, "I miss my Pontiac Aztek" isn't a sentence I'd ever thought I'd encounter, but life is full of surprises.
Anyway, I get it. The Aztek gets dunked on by basically everyone, but it was weird and incredibly practical, and way ahead of its time. It was a crossover before crossovers blew up to encompass the whole market. You have to give it some credit for that.
I'll say it's unlikely we can check all of your boxes—good MPG, weird, practical, reliable, no infotainment—but one weird modern car checks many of them, and that is the Ford Flex. It's basically a big wagon in terms of size and shape, and I believe it comes closest to meeting your desires and your needs for something that's as unusual as it is pragmatic. Plus it has an actual turbo V6 engine, not this ubiquitous turbo four-cylinder crap that's in everything these days.
Here's a 2017 Flex Limited for just $24,530. These have been around a while so you can find a ton in your price range. It's basically the modern Aztek, just better in nearly every way.