Call it a guilty pleasure if you must, but there is just something about the second-generation Dodge Ram that won't let my subconscious rest.

I was still very much in my youth when this "new age" body style was first released to the public back in 1994. I think my fondness towards the truck is a culmination of seeing it in person, and seeing it on the silver screen.
Whether it was the bright-red long-bed that starred in the blockbuster Twister, or Chuck Norris' silver steed in the '90s hit T.V. show Walker, Texas Ranger, this truck had the looks to firmly ingrain lust in any truck-loving individual.
The unfortunate truth about these trucks is that they are Chrysler "crap." They are built cheaply, they have a terrible propensity to rust, the steering has a tendency to become dangerously "vague," and the interior has more hard plastics than a Johnny on the Spot.
G/O Media may get a commission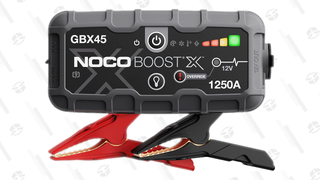 13% Off
Noco Boost X GBX75 Jump Starter
But you know what? I don't give a damn. I wanted one, and I got one.
That's right, I just bought the truck of my childhood dreams: A 2001 Dodge Ram 2500 with the venerable 5.9 liter Cummins turbo diesel engine. And let me tell you: what a machine it is.
I've Been Searching So Long
I've been on a Cummins-equipped-Ram kick for a few years now. I've had the occasional urge to go out and spend way too much on one of these behemoths. Until now, I've had the self-control to prevent such a mammoth-sized financial mistake.
Just last week, however, my self-control met its match: A well-kept truck at a sweet price.
You see, these trucks aren't exactly garage queens. Most of them got put to work the second they left the dealer's lot. They're not great grocery-getters. But, hauling heavy equipment? That's where they shine. Needless to say, the cosmetics, both interior and exterior, are usually in pretty sorry shape by they time the show up in the classifieds.
These trucks also don't depreciate in value like you would expect. Just take a look at your local Craigslist to see what I mean. If it has the Cummins engine in it, the price will be at least double that of an equivalent gasser. If you want a truck that is somewhat reasonably priced, you have to go in fully expecting quarter-million mileage.
When this white, two-owner, Cummins-powered Ram popped up on my local Craigslist, I couldn't hold myself back any longer. It was advertised for only $5,700. I had to go check it out.
The seller had owned the truck since 2004. He used it to haul the family's fifth wheel RV around the country. He had racked up a lot of miles doing this - 270,000 of them were on the odometer. It was in excellent condition over all, with a nearly perfect interior save for a small tear in the driver's seat bolster. There wasn't a speck of rust on the body which is an incredible feat for one of these.
The best part of all was it was equipped with a six-speed manual transmission. With this transmission and engine combo, the truck could pull a house from its foundation. There was one downside though: It was a two-wheel-drive.
However, with the asking price of the truck being so favorable, I figured I could manage to survive the Midwest winters sans a 4WD drivetrain.
The Diesel Experience
The seller tossed me the keys and I took it around the block. Driving this sort of manual transmission equipped vehicle is a completely different experience than say, driving a Honda Accord fitted with a manual. You don't start off in first gear. You don't feed in gas while letting out on the clutch. Oh no. This engine makes far too much torque off of idle for that.
All you do is slowly let out the clutch in second gear and the massive engine takes care of the rest. The gear ratios are very short. So short that I found myself in fourth gear before even hitting 35 mph.
Once this vehicle gets up to speed, forward progress is actually fairly lively and quick. The noise the engine produces, with that big honkin' turbo nestled beside it, makes every sprint through the gears an event to remember.
I simply love that diesel sound. The click-clack cadence that crescendos into a deep roar with the overtone of a turbo whistle. It's an acquired taste, that's for sure.
I've found that driving the truck makes you appreciate the powertrain's industrial persona even more. It's the low-RPM power surge and silky-smooth climb in revs that can't be replicated in anything other than a big inline-6 diesel. It changes your whole outlook on internal combustion power delivery. It's a wonderful sensation, to say the least.

Here We Go
I couldn't hide my smile as I pulled into the seller's driveway. This truck ran great, it was obviously loved, and I couldn't help but want it. Dammit, it was coming home with me. I left $5,300 lighter.
I brought the big pickup home and parked it proudly in the driveway. I thought to myself, "How awesome is that?" as it took up one whole side of the steep, concrete incline.
It wasn't but five minutes later when my fiancée, who has been aware of my unwarranted desire to own a big diesel Ram, came home from work. She didn't even flinch. There wasn't hint of surprise.
She accepted that this vehicle was now a part of our lives, to drive from this day forward, for better or for worse, for richer or for poorer, in sickness and in health, until death do us part. Yes, I know, I'm a lucky guy.
So here I am, with a big, burly, loud, Chrysler product from the early 2000s, and all the potential quality issues that may arise from that.
What in the hell am I getting myself into? I don't know.
I guess I am going to have to find a bunch of unloved projects to tow home so I can somehow justify this purchase. Or, maybe, I'll use it to retrieve that old Nissan 300ZX of mine when it inevitably breaks down. Either way, I will certainly share the stories with you.
Wish me luck on this harebrained journey. She'll probably kill me next week.
Peter Monshizadeh is the Practical Enthusiast.