It's finally here. Yes, ladies and gentlemen, that's right: after nearly three months of waiting, and transit, and customs, and preparation, my Nissan Skyline GT-R has finally completed its 10,000-mile journey from Japan to America. I've welcomed it with open arms, and also the occasional curse word when I try to get into the driver's seat by walking up to the passenger door.
You'd know all about my new Skyline GT-R if you followed me on Twitter, because I've been posting photos of it there like a first-time mother with Facebook access. I was especially proud of this photo from the Richmond airport, where I posed the Skyline – one of the most exciting high-performance Japanese cars of all time – with a sign welcoming me to Virginia, a state where they'll give you a speeding ticket if your dog runs too fast at the park.
But today, I'm going to tell you the story of picking up the Skyline and driving it home, starting from the very first moment where I climbed in, twisted the key, fired up the engine, and couldn't find reverse.
I've also summed up this story in a video, which is included below for your viewing pleasure. But since I'm aware that many of your workplaces have instituted a ban on motion pictures, I will also recount the experience for you the old-fashioned way: by writing about it on the Internet.
The story begins back in December, when I asked you what car I should buy to replace my Ferrari, and you overwhelmingly told me to import a Nissan Skyline GT-R from Japan. So I called up Japanese Classics, noted importer of automobiles I crashed in Gran Turismo 2, and we spent the next two months on the phone once a week in order to fully report on the process of importing a car, from start to finish.
G/O Media may get a commission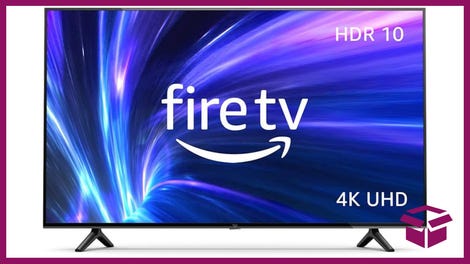 42% Off
Amazon Fire TV 50" 4K Smart TV
And then, after all the e-mails, and phone calls, and messages, and waiting, there I was: at Japanese Classics in Richmond, Virginia, standing in a warehouse I can describe only as JDM heaven.
There were other GT-Rs, and a 300ZX, and various imported Skyline sedans. There was a Honda City Turbo and an old Civic with only a few thousand original miles. Bizarrely, there was a Buick Grand National. There were dozens of engines and hundreds of parts, all neatly arranged on the shelves. And then, there was my personal favorite Japanese Classics gem: a right-hand drive 1990 Toyota 4Runner, complete with a diesel engine, a manual transmission, and only 71,000 original miles. Fortunately, it was already sold, or else I would've had to figure out how to get two vehicles back home from Richmond.
Anyway: back to the Skyline. After we did the paperwork, I walked outside to take my very first drive in my "new" 25-year-old Japanese car.
At this point, I must confess that my expectations were rather low. I kind of thought the Skyline would be a really cool Maxima, and I figured this whole culture around it was totally overblown and ridiculous and out of proportion. After all: there's a fan club for everything, including that mid-1990s Mustang with panel gaps the size of an octopus. So I figured the Skyline would be an overhyped letdown and I'd want to get rid of it before I even got home from Virginia.
And then… the key twist. The first turn of the wheel. Letting out the clutch. And the discovery that the Skyline GT-R really is as cool as everyone says it is.
Here's the thing: my experience with Japanese cars primarily came from my parents, who owned a large assortment of boring, basic transportation Japanese vehicles throughout my entire young life. But this car isn't anything like the point-A to point-B Japanese cars I'm used to. The engine burbles like a V8. The steering is as tight as a Porsche 911 or an E36 BMW M3. The car is as stable at high speeds as a Mercedes-Benz. It's all so well-done that you kind of wonder if, had Nissan brought over this car 25 years ago, people would now associate the Japanese with the kind of purpose-built, high-performance sports cars the Europeans are now famous for.
Unfortunately, I didn't really get to investigate the matter further, because I was driving a newly imported right-hand drive automobile with a window-mounted temporary license plate and a kilometers per hour speedometer through Virginia, a state where Jalopnik's own Patrick George once put his foot down and ended up in jail with the kind of people whose primary occupation is convenience store robbery. This meant the odds of getting pulled over were roughly equivalent to the chance that you may, at some point during your life, die.
So I took it easy in Virginia and I used the time to learn several other important details about the car. For example: did you know the R32 GT-R is a 5-speed manual, and not a 6-speed? I certainly didn't, but I learned it the moment I almost shifted into reverse on the highway.
Also, I discovered that my Skyline has been surprisingly well maintained, in the sense that everything works, from the mini-disc player to the air conditioning to the power windows, power locks, and mirrors. The only thing that doesn't work is the clock, but that's OK, because I don't really care what time it is in Osaka.
Eventually, I reached Washington, D.C., where I was meeting up with a couple of readers for lunch. It was here that I started to discover the Skyline's biggest flaw: 25-year-old automotive seats aren't made with the same level of cushion that you get from modern automotive seats. On the contrary, 25-year-old automotive seats sort of feel like giant slabs of stone that were not, in any way, shaped to fit a human rear end. By the time I reached D.C., I was so sore that I pulled up to the first parking garage I could find and paid the attendant – this is true – twenty dollars to park my car for an hour and a half.
After lunch, I made the mistake of attempting to leave D.C. at 4 p.m., which meant I was stuck in traffic for the better part of early April. Seriously: while you guys were off celebrating Easter by consuming large amounts of bunny-shaped chocolate, I was sitting in traffic behind a guy in a '99 Accord who had been fired from his job nine weeks earlier and was still trying to commute home.
But despite its age and its lack of regular use (my Skyline has only 35,000 original miles), the car handled rush hour just fine. Not a hint of overheating. No funny noises. No strange behavior. Just one perfectly cool right-hand drive automobile and one very sore driver who was starting to wonder if maybe the Japanese do not have butts, and this is why they designed the seats to feel like you're sitting on a piece of brutalist architecture.
Eventually, we cleared Baltimore, and the traffic thinned, and I became very excited because I knew I could later describe this experience using automotive journalist metaphors, such as "stretch the car's legs." And indeed I did stretch the car's legs, although what I really wanted to do was stretch my own legs, which were now starting to feel like I had recently decided to take up bicycling and very my first ride was the Tour de France.
Here's what I discovered while driving through Maryland and Delaware:
1. The Skyline attracts just as much attention as any car I've ever driven. JDM enthusiasts come up beside you and ask questions. Old people notice you're driving on the "wrong side of the car" and do a double-take. People who know the "GT-R" name see the badge, and think you're just some idiot who stuck it on an old Sentra, until they realize that you're sitting on the right side of the car. Then they give you a thumbs up. The entire experience is very much like driving the Ferrari, except nobody hates you.
2. The Skyline is incredibly fun to drive. And I don't mean it's somewhat fun to drive, and I'll get tired of it after a few weeks behind the wheel. I mean the steering is tight, the acceleration is top-notch, and the car pulls hard at every speed, in every gear. It was all so exciting that when I finally got to Philadelphia, I wanted to drive the car even more, except that I was only about 50 percent sure my legs were still attached to my body.
So the Skyline is now here, and I'm pleased to report that I truly couldn't be happier. It's fun, it's fast, the driving experience is everything I hoped for, and I'm legitimately excited every time catch a glimpse of it in my garage. Maybe, just maybe, this thing really does deserve the "Godzilla" moniker. I suspect we'll find out for sure over the next few months.
@DougDeMuro is the author of Plays With Cars . He owned an E63 AMG wagon and once tried to evade police at the Tail of the Dragon using a pontoon boat. (It didn't work.) He worked as a manager for Porsche Cars North America before quitting to become a writer, largely because it meant he no longer had to wear pants. Also, he wrote this entire bio himself in the third person.