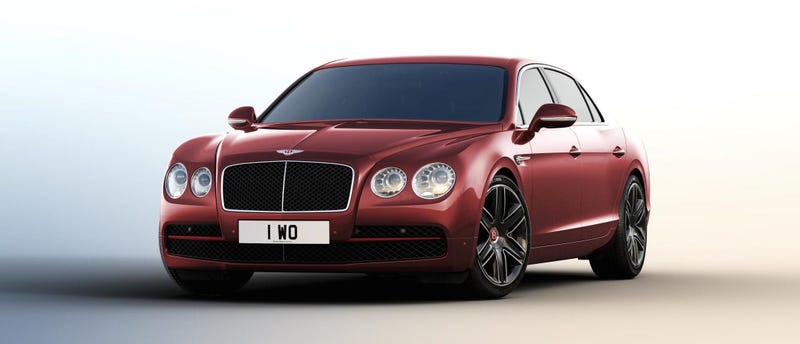 No Bentley is a car I wouldn't own, yet they way Bentley talks about their cars confounds me. Their latest model is the Bentley Flying Spur Beluga Specification which you can also get in Mulliner Driving Specification with a knurled gear lever. What?
The basics of this Bentley Flying Spur are the basics of all the other large Bentleys. It's a big sedan. It has a twin-turbo V8. They've done everything to make you not think it's a Volkswagen. It's handsome in the simultaneously understated/overstated way of, say, renaissance statuary or donk'd golf carts.
So I open the press release and I'm totally on-board until I start actually reading it.

Bentley Motors is launching a new specification level exclusively for its Flying Spur V8 model – Beluga Specification.
Like the whale? I mean, it's a bigass car, but I wasn't going to say anything.
It's not even the biggest sedan you make. Or is this like a caviar thing?
The contemporary trim level affords the Flying Spur sedan a more athletic stance and purposeful visual appeal. Featuring exclusive 20" Black and Bright machined alloy wheels, a gloss black radiator matrix and a body-coloured lower grille bar, the Beluga specification is the perfect enhancement for a modern performance saloon that perfectly blends craft and comfort.

Inside the Flying Spur V8's sumptuous handcrafted cabin, buyers will find swathes of piano black veneer, knurled gear shift paddles, contrast stitching to the luxurious seats and steering wheel as well as deep pile floor mats and boot carpet with contrasting leather binding.
I'm going to go pour myself a drink. Please keep reading.
When customers also specify the highly popular Mulliner Driving Specification, in combination with Beluga specification, the striking 21" 6-spoke Extrovert wheel is included. The Mulliner Driving Specification includes features such as diamond quilted hides, a knurled gear lever, drilled alloy pedals and an indented hide headlining.
Ok, here are my questions:
What?

What is a "knurled" gear shift paddle and why is it so important you mention it twice?

Extrovert wheels? Is this trolling? I agree, it's an apt name, but a little too apt for someone bragging about "indented hide headlining."

That you call it the Mulliner Driving Specification is proof that, no matter how hard you try, we know you're Germans.

Is the full name of this car if you get all the options the Bentley Flying Spur Beluga Specification Mulliner Driving Specification?

In 4.0-litre, twin-turbo V8 guise it develops 507 PS (500 bhp), sprinting from 0-60 mph in just 4.9 seconds (0-100km/h in 5.2 seconds) while at the same time offering a single-tank range of 500 miles. The athletic design of the Flying Spur combines traditional Bentley styling cues with a dynamic stance and contemporary details, further enhanced in the Beluga specification.

Designed for comfort and refinement, the Flying Spur has benefitted from a suite of upgrades and enhancements for 2015. The exquisite cabin gains modern and tactile new features (as well as onboard WiFi) to maintain Bentley's reputation for interior style and usability.
What?

Can something not be both tactile and modern?

Is the WiFI not a modern feature? Is WiFi no longer modern? Am I old?

Can I get it in blue?
---
Contact the author at matt@jalopnik.com.