After months, and months....and months of waiting, it is finally here. This is my 2015 Volkswagen GTI with Performance Package. It will be sort of an "unofficial" long term test car. What do you want to know?
As to how I came to buy this GTI over any number of hot-hatches, sedans, and other sporty rides is another story. I've only had it less than twenty-four hours, so of course I'm still getting used to some of the features and overall experience of the car.
Things I like so far:
As most of you know, the performance package adds an extra ten horsepower, larger brakes, and an electronically controlled limited slip differential. The extra ponies are not really noticeable, though this thing feels so much faster than my 167 horsepower Mazda3. I will say that the VAQ differential and bigger binders are well worth the money. They transform the car from a very good handling front-driver into a "I can't believe I carried that much speed into that turn and didn't die!"
Also, plaid seats are awesome.
Things I don't like as much:
While I certainly love the power increase over my Mazda, I do miss the hydraulic steering of the 3 that had just the right amount of feedback. Don't get me wrong, the variable-ratio electronic tiller in the GTI is quite good, but there was something special about tossing that Mazda into a corner and having those little vibrations come up from the front tires and into my hands. Also, the pedal spacing is a little further apart than I would prefer, so that means I have to adjust my heel-toe shift technique a bit.
G/O Media may get a commission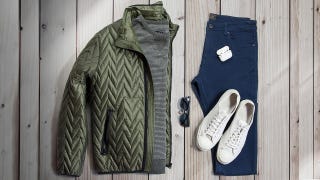 60% off
Jachs NY Fall Sale 60% Off
This GTI four door S with a six-speed manual, performance package, and lighting package has an MSRP of $28,685. That is a lot of money for a car with no leather, no sunroof, no navigation, and no automatic lights. So if you are looking to get a lot of stuff for your hard earned cash, the GTI may not be the best value.
We named the GTI the best daily driver for a sporty car under $30,000 . I intend to find out if that's true.
Got questions? As I log more miles I'll try to answer them.