A scream rang from across the canyons. A dull roar, really, dull only because I haven't yet punched it, sitting Right Here in an Aston Martin Vanquish, and I am in a devastating, crippling traffic jam that only the Malibu hills could provide: Ferrari 430, McLaren MP4-12C, Nissan GTR, Maserati GranTurismo convertible, a sibling Vantage Volante, and then the crème de la crème, today's MVP—an early Acura NSX, on stretched tires wrapping BBS wheels, OG NSX BBS, and the lot are blatting and popping in third gear up Malibu Canyon Road. We are crashing their party. We are obligated to do so.
---
Full disclosure: Aston Martin wanted me to drive all of their cars so badly they provided the cars, a night in the Four Seasons, and some food. I'd have stayed in a Motel 6 for the chance to drive the cars.
---
When they get to the tunnel they all slow down, a flash of brake lights, dancing in unison. I know what they're doing. My driving partner Jeff Jablansky knows what they're doing. Right now six individual hands, twelve pairs of fingers, are going for the power-down window switches, right hands downshifting, ready to blat and pop off the narrow tunnel walls. Malibu Canyon traffic being what it is, we are going 35 miles per hour.
G/O Media may get a commission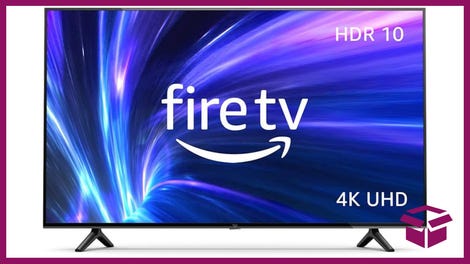 42% Off
Amazon Fire TV 50" 4K Smart TV
"Can you be an absolute asshole while still doing the speed limit?" he asks.
It's a rhetorical question. One by one are the distinct growls of carbuilding prowess: naturally-aspirated V8, twin-turbo V8, twin-turbo V6, V8, V8, V6—and then, us, in our 568-horsepower, naturally-aspirated vee-bloody-twelve, the last of a dying breed, and it gargles dynamite as we race up to 50 miles per hour, the sound bouncing off the stalactites, what a wonder, right into the ears of Mister Vantage and Mister GranTurismo. A deep-throated burble, thick and creamy, no juvenile brapping or burping. No, save that for the Jaguar upstarts, you plebe...
By the time we reach Mulholland Highway the entire group falls in unison into the left turn lane. We turn right. Our point had been proven, whatever that was: we meant no harm, really, but we had to hear things for ourselves. An Aston Martin, like any fair-weather exotic, is a car that generates its own music.
Haunches for days at King Gilette Ranch, named for the Vanquish's razor-edged grille slats.
There's a theory about Aston's most famous cohort, James Bond, and it goes like this: he's not just one singular person, but a code name for a multitude of civil servants. How else would one rationalize the differences between Connery and Dalton, Moore and Brosnan? Or Daniel Craig's oh-so-gritty reboot? Different agents, one name: such an elegant theory it should be canon.
Come to think of it, that's how Aston Martin works, too. Different cars, one look. Squint, and every car looks like it sprung from the DB7: long, sleek, curvaceous, a grille like Oddjob's bowler. Variations on a theme. No need for reboot.
And yet, progress—tangible, genuine progress.
---
Aston Martin V12 Vantage S
On what planet could anyone have conceived of the V12 Vantage S? That mighty V12, designation AM28, all five point nine litres [sic], once took the length of a DBS's hood to contain it. Now, inside Aston's smallest car. As Travis noted, it's the hot-rodder's dream!
Our 2015 V12 Vantage S loses a manual transmission but gains 55 horsepower, so chalk that up as a draw. It will hit 200 miles per hour, said chief program engineer John Caress—who has been with the company for 15 years, who wears an obscure German pilot's watch, who ferries his children to school in a DB9 Volante. He should know. He did that on the way to the Nürburgring once. Was it with the top down? We'd like to try that. Would make for a good story.
So, we drove the roadster. Flugplatz Blue, a color that screams.
"[My girlfriend]'s grandparents are buried here! You wanna go to the cemetery?" Jablansky jabbered excitedly, pointing. We were headed down the 101, towards Kanan Road and the canyons, roof down, the exhaust burbling cheerfully. "Valley Beth Shalom! Or something. It's got great apexes. I took the NSX here and was clipping the corners and she said, 'don't you think that's a little bit disrespectful?' I told her, 'if these people were still alive, they'd want to see me drive well.'"
Below five thousand, the V12 Vantage S is soothing, tractable, quiet. It gives no hints to its potency. You can feel its front end pulling away from you, burdened by all those cylinders: go into a corner and turn in and watch the nose react a second later. The steering does its best to hide that fact to you, dear driver, with a heaping of Servotronic electric assist: light, nimble—the same ratio as the Vanquish—and slightly tepid. No substitute for the GT's hydraulic perfection. (More on that later.)
Drive it like you would, say, a Dodge Challenger Hellcat: best to jump on the throttle on the way out.
On Piuma Road some goon in a Camaro SS, GoPros mounted liberally, tried to chase us.
And above five thousand RPM, the V12 Vantage sounds like a thousand screaming crocodiles snapping at raw meat that's been thrown off a nitromethane-injected airboat. Turn on Sport mode and the snapping of jaws only gets more vivid—a split personality, like God Himself turned up the gain. A dangerous car, it tells you, but not that dangerous—go on, take this corner faster, dip into the heavy throttle, and you can feel the rear end slide, ever so gently, never breaking loose. Is this what surfing feels like? I tried that, once. It's a similar sensation: carried by the waves, powerful and overwhelming, a benevolent force that washes over you…
---
Aston Martin Vanquish Volante
"They still managed to make it feel somehow not perfect," said Jablansky, from the driver's seat. "Let's face it, these cars are basically perfect. But they still have an imperfection to them. It's like a model, with a dimple or a mole. She won't tell you where that mole is, though."
The imperfection is hard to pinpoint. We were in a droptop Vanquish on the Pacific Coast Highway, and the top was down, and the champagne flowed from the air vents, and the Entourage babes caressed us with their perfect manicures, and the sun beamed through the clouds winking as if to say, "we know you two shmucks don't deserve this. But it's ok. It'll be our little secret."
But the Vanquish is the first Aston Martin with an interior from the 21st century, that is to say, full of capacitive-touch "buttons" and striking quilted seats, and its eight-speed ZF Touchtronic III transaxle is worthy of supercar status by performing upshifts in 130 milliseconds, far ahead of the V12 Vantage's hopeless Sportshift automated manual. It certainly doesn't feel like it weighs 3,834 pounds. Is this progress?
Bucket of blood. (Photo: Drew Phillips)
Some supercars goad you constantly into going fast, all the time, languishing and protesting anywhere below the ragged edge, but the Vanquish doesn't. It is not frenetic. It's actually quite soothing, in a car that can hit 60mph in 3.6 seconds.
Jablansky, in the Vanquish coupe, demonstrates his default motoring hand positions.
"These guys are driving too slow." We followed a two-generations-old Toyota Avalon, refrigerator-white. "My grandma taught me to drive, and she said, 'Jeffery, always drive with a hand on the horn.'" On a Vanquish with the optional One-77 wheel, the horn buttons are at 10 and 2 o'clock. "Oh!" Jeff exclaimed. "That's even better! Thank you grandma!"
---
Aston Martin Rapide S
Think of the Rapide as the Vanquish with jump seats, which is an apt analogy, because it is. The shape looks like it was made from one piece of Laffy Taffy then stretched to juuust the point of breaking. That huge leering grille might resemble the shark from Finding Nemo but in person it actually works. (Trust in Marek Reichman and the Golden Ratio.) Press a button on the C-pillar and the half-sized seatbacks duck and cover like Fifties schoolchildren. Aston Martin loves buttons, beautiful glassy buttons that activate electronic whirs, which are only occasionally its downfall.
Needless to say, it's cozy back there. So much leather, it's like sitting inside Cruella de Vil's Birkin bag. (Not a euphemism.) Small TV screens in the headrests give off a JetBlue vibe, as does the knee-chomping legroom: you might be flying coach, but it's a very nice coach.
Who sits in the back? Who can fit? Do the women from Robert Opron's Citroën SM design brief go there?
No, that's a bygone era: the men who smoke cigars while helming brave machinery, the women who titter away behind them. But the Rapide is hardly a sedan at all, and even its Finding-Nemo-shark grille works better in person, and it looks so dramatic cresting over the speed limit. With the Vanquish's eight-speed ZF wündergetriebe, and weight distribution at near parity, the Rapide attains high-speed competency. The Panamera can do the same, the Rolls-Royce Ghost, and any number of German supersledges, but the Rapide has a sense of drama.
And if the electrics do give way, the dramatic arc barrels toward a crescendo.
---
Aston Martin Vantage GT
Engine in front. Six-speed in middle. Drive wheels in back. The Vantage GT is a British Corvette—albeit, not the current knife-edged Stingray. No, this is like Michael Caine in Get Carter: not much for finesse, but it gets shit done. Big, heavy controls. Short, stubby, slightly rubbery shifter. A clutch that feels like SWAT kicking a door down. Steering best described as "meaty." Think of what a Corvette must've felt like, back in the Seventies, to the tweed-cap MG-driving set. The Vantage GT, and the V12 Vantage S, are throwbacks to a different era: two paths to glory, two forms of simplicity. Both are terrific send-offs for the ten-year-old Vantage.
At a tick under $100,000, though, it's the cheapest Aston Martin. As it turns out, it's also the best.
With the V12 Vantage S, at Zuma Beach in Malibu, Jablansky attempts his best stiff-legged "Top Gear, circa 1992" pose.