Hey, Internet people! Yes, you. I have a bone to pick with you. Somehow, in your busy day of posting rage-filled comments on the websites of your local newspapers and looking at pictures of cats, you missed out an amazing opportunity.
On Friday, the eBay auction ended for this incredible Ford Excursion limousine. Now, the stock Ford Excursion was a massive vehicle on its own, a relic from that early part of the last decade when gas was cheap, small cars were for losers and everyone thought war in Iraq was a swell idea. But this one has been extended to a whopping 250 inches long — that's about 20 feet in total. It's like a huge truck with several other trucks tacked onto it.
It's not just big in size, either. It's big in partying potential. Features include strobe lights, fiber optic lighting, flat screen TVs throughout, a dedicated VIP section with seating for 10, and ice cold A/C, baby girl.
But the best part is that this club-on-wheels packs real marble pillars and floors. That's right, marble floors.
The inside of it is so glorious that it actually has a name of its own: The Roman Empire. Does your the interior of your stupid car have a name? I didn't think so. On top of all of that, it's being sold by a dude whose name is "Limo Bob." How can you go wrong here? I hope Limo Bob puts it back on eBay soon.
G/O Media may get a commission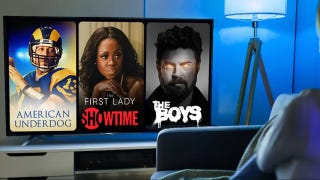 UNDER $1
99¢ Prime Video Channels
You people are nuts for passing this up. I'd buy it myself, but I've got nowhere to park it. It's too damned big.
Photos credit eBay
Hat tip to Troy!