In case you are one of those strange people without access to either a television or the internet (in the latter case, how the hell are you reading this????), there is a quirky Canadian show called How It's Made: Dream Cars that is beloved throughout the world. Tonight, they're looking at the BMW M6, and I am enthused about such a development.
Why, you ask?
(And again, why the hell are you asking this??? This is a car website, what the hell?)
A) Because it's the BMW M6, with up to 600 horsepower
B) They've got one of those neat machines that rotates the entire chassis at once
G/O Media may get a commission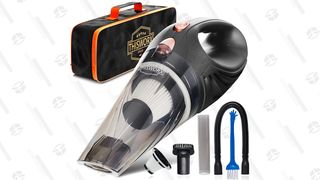 Save 50%
ThisWorx Car Vacuum Cleaner
C) It's How It's Made, which always has such placid, euphoria-inducing narration that it brings about a sense of spiritual well-being the likes of which only illegal intoxicants and/or Canadians can provide
D) It's the BMW M6, with up to 600 horsepower
E) Have you seen the other episodes they've done for How It's Made: Dream Cars, like the Alfa 4C, Bugatti Veyron, and Aston Vanquish? It's manufacturing pornography at its finest.
F) It's the BMW M6, which not only has 600 horsepower, but is put together by nothing but the finest German engineers and also a large man in overalls.
The show's on at 9:30 tonight on the Science Channel, I think? I dunno. Go look it up. You definitely have the internet.