Posting yesterday's episode of David Dissects made me recall an incident during our week of filming at the junkyard: a dude threatened to fight me over a pair of old used tires. If my rusty Jeep project doesn't kill me, junkyard tire hoarders might.

If you've been following my hopeless 1948 Jeep build, you'll know that I'm currently on the hunt for used tires and wheels, since I'm too cheap to buy the special tall, skinny ones that the Willys deserves.
The ideal "common" tire size for this Jeep would be a 235 75 R15. At just under 29 inches, it's about the same diameter as the factory tire, without being so wide that it rubs against my leaf springs and eats into my turning radius.
I've been having a hell of a time finding a decent used pair at my local junkyards, but two months ago, I found exactly what I was searching for. There at the junkyard sat a Jeep Cherokee wearing Goodyear Wrangler radials with 235 75 R15 written on the sidewalls. They were in decent shape, too. And for $20 a pop, it was a score!
G/O Media may get a commission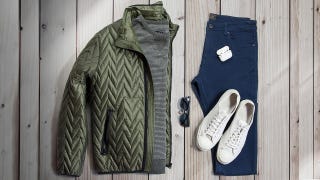 60% off
Jachs NY Fall Sale 60% Off
So I grabbed those tires, and headed to the checkout. That's when I walked past a big pile of tires right in the center of the junkyard, where I found four of those same 235 Goodyear Wrangler radials. Thinking my tire woes were now over, I checked those four out to see if I could find two or three that were in decent shape so I could complete my set. They were all junk, though, so I moved on.
That's when this guy came out from under a car and started yelling at me. "Hey bro! Bro!" I turned around and see him sprinting towards me with an extremely pissed off look on his face. Short but built, full of rage. No sign of kindness in those evil eyes, which reached deep into my soul and struck genuine fear into me.
"Bro, what the hell are you doing with my tires?" he asked, livid.
I told him I had just grabbed these two from the Cherokee, but he didn't believe me, saying: "No, you stole them from my pile." I then showed him how the rims were different from the four in his lot. Plus, cars don't usually come with six wheels. "Bro, you're a liar," he said. "I looked all around this yard, and I wouldn't have passed those ones up."
Now, a junkyard rumble wasn't something I signed up for that day. I just wanted some damn tires. At that point, I knew I needed to defuse the situation.
I gently reiterated that I'd just grabbed these off the Jeep Cherokee over there, but then the guy got really close, and demanded I give him those tires or he'd fight me right there.
Realizing this wasn't about whether I had taken his tires, but rather about him just wanting the ones I had found, I just dropped the tires and moved on. It wasn't worth it—I'm a wrencher, not a fighter. Not to mention, they're used tires, for god's sake!
I'll admit that I've definitely come across a number of unsavory characters at junkyards, from aggro nutjobs like this guy to thieves and just plain creepers. For the most part, I get along with junkyard hunters—we talk about wrenching and tools and everything's fine. But I do find that sometimes people at junkyards have their guards up. It's often not a very trusting atmosphere, with wrenchers weary of having tools stolen and junkyard operators concerned about parts theft.
The guy never gave me a chance, because right off the bat he decided I couldn't be trusted. Part of that, I think, has to do with parts hunting being a living for some people. It's an every man for himself type feeling at junkyards, because there's money in play.
I can't wait to finish up this Willys project. It has already cost me my sanity, my kitchen, and probably a few years of my life from all the penetrant and rust I've ingested. And it almost got me into a fight.
April 1 can't come soon enough.