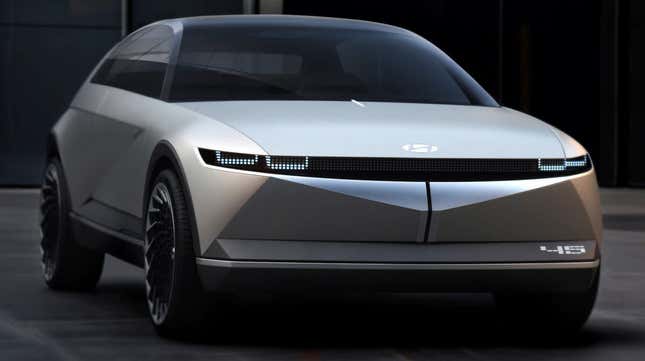 Hyundai said in August that it would be making Ioniq its own brand for electric cars, Wednesday it said it would have two new all-electric Ioniqs by the end of 2022. You should be excited for these!
We're Driving the 2024 Integra Type S, What Do You Want to Know?
Well, maybe just the Ioniq 6, because the Ioniq 5 will likely be based on the Hyundai 45 concept (the car pictured at the top of this post) that we first saw last year. It will be a fairly straight forward crossover, but this time with all-electric styling.
The Ioniq 6, on the other hand, might look something like the Hyundai Prophecy concept we saw in April. The Prophecy, you'll remember, is a real looker: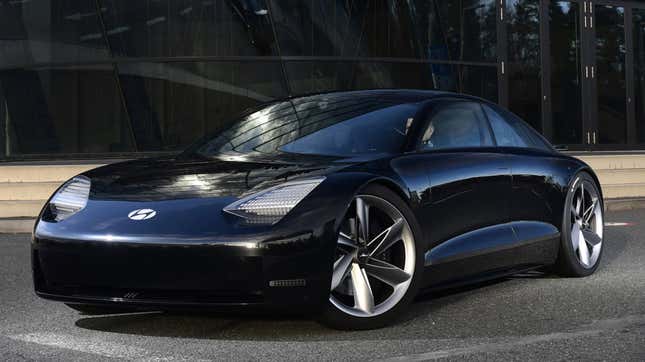 You can sort of see them both but covered in this photo from Hyundai's announcement today: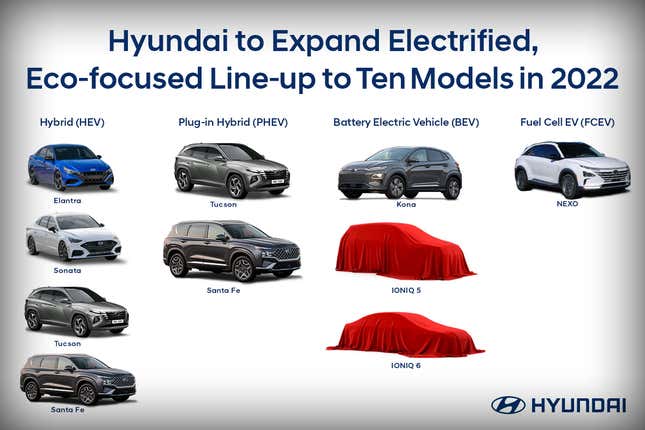 That is ten electrified cars in total that Hyundai says will get here by the end of 2022, including one all-electric car that has a shot at being Good, and another that has a shot at being better than the Volkswagen ID.4. The big question for me will be price, because it will be a dealbreaker for a lot of people if these cars remain in the $35,000-$40,000 range, the price floor that EVs seem stuck at, though considering what Hyundai is going for here the Ioniq 5 and 6 will probably cost that much.
Just one of these days I'd like to wake up and literally any car company says, "Here's a decent EV that costs about $20,000, doesn't try to have all the range in the world, and succeeds in getting you safely from Point A to Point B." That's when I would consider signing up.