Fatherhood offers the opportunity to no longer feel compelled to be cool or fashionable. My Brooklyn neighborhood seems to be split between dads who embrace this freedom and those who consider their kids another expensive accessory. The Hyundai Veloster Turbo Rally is that dad still trying hard to be cool.
I should probably clarify here that there's no way in any world that I was cool or fashionable before Bette came into my world, so I didn't have a lot to change upon becoming a father. The most common refrain I heard from coworkers when they found out my wife was pregnant was "Now your sense of humor will be more appropriate." You could say the same about how I dress.
Williamsburg is not cool. I've been told it was cool at one point. It's possible that it was cool as recently as the day before I lived there and I was the J. Crew checkered oxford that broke the camel's back.
It's not like I walk around in a garbage bag. I put some thought into my appearance, but I look so much like the casual Brooklyn dad in my not-too-skinny Levi 511s and My-Aim-Is-True glasses that a toddler at a daycare I was visiting immediately latched onto my leg when I got into his field of view.
G/O Media may get a commission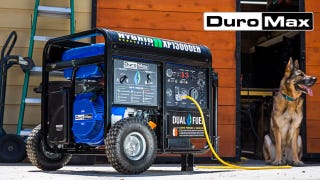 Black Friday Sale
DuroMax Generator Sale
"You look just like his dad," one of the daycare's employee's said. I do. I look like all the dads.
The Hyundai Veloster Turbo Rally does not look like every other hatchback on the market. It looks like it wants you to think it's a high performance hot hatch. Why else would it have factory matte blue paint, pieces that look like carbon fiber, a big chrome-tipped exhaust, and GENUINE 18-INCH RAYS ALLOY WHEELS?
It works. If you didn't know anything about this car, merely by looking at it and seeing the words "TURBO" and "RALLY" you'd assume it was fast. It is not.

This isn't to say the car is slow. With slightly more than 200 horsepower and a reasonably low sub-3,000 pound curb weight it'll shuffle to 60 mph in less than seven seconds. The version I drove had a six-speed manual modified with a short-shifter and hustling through the gears was enough to get Bette's eyes to widen while accelerating up an on-ramp.
I didn't love the shifter, but it's a better experience than the regular Veloster Turbo I tested a couple of years ago. Hyundai has said in the past that the take rate on manuals for the Veloster is nearly one-third so I'm glad they're improving the experience.
As I'm becoming more comfortable with having the most important thing in the world in the backseat I'm able to sneak in a quick turn here and there. Fitting for a car designed to appeal to video gamers, the car will plant the tires firmly on any corner with a minimum of fuss even though there's no obvious connection between the steering wheel and the rest of the car.
The suspension has been stiffened, we've been told, and I'm sure that's true. The ride is firm. Does it make the handling any better? I'm less sure about that. I like cream cheese on my bagels, but I don't use an entire tub of it. I have the same feeling about suspension tuning on pseudo-performance cars and there's just a little too much cream cheese on this bagel.
Ultimately, the Veloster Turbo Rally looks faster than a Focus RS and is slower than a Focus ST while being sized somewhere closer to a Fiesta.
As Jason wrote when he put Otto in the non-Rally version, "It's a sporty car instead of an actual sports car."
That's fine. If you're a new dad and you want to look fast and want to sometimes downshift and make a noise (not a great noise, mind you) then you can definitely baby in the Veloster.

Jason had it a little easier because, at the time, Otto was in a forward-facing seat, which takes up a lot less space than the rear-facing model I'm stuck with until Bette gets older. Even so, the Veloster is large for a subcompact and both a pint-sized human in a car seat and a full-sized can stretch into the back without compromising too much room in the front seat.
Getting into the Veloster is where the challenge lies. Though the Hyundai looks like a three-door from the driver's side, it's actually a four-door thanks to the rear door on the other side.
Because I live in a place with opposite-side-of-the-street parking, this means that roughly half the time I could load Bette in from the sidewalk, which was excellent. The rest of the time I had to push her stroller out into the street or find an open space near a fire hydrant in order to open the appropriate door.

While not ideal, it's still better than no extra door and I like the funkiness of it. What was more challenging from a parental perspective is that the rear is raked fairly sharply and has a big piece of glass that sits over where Bette's face is. This means I had to worry about blasting her gentle skin with UV rays the entire time. Getting the car seat in and out was also slightly challenging because of the sharpness of the roof, but the seats back there didn't say "TURBO" so that's a plus.
The most baby-worthy part of this car is actually the cargo area, which is deep and spacious for a vehicle this size. I had no trouble getting an overstuffed diaper bag and our travel stroller in there.

More importantly, changing diapers anytime and anywhere is a skill you need if you're going to be a new dad. This is essentially the parental equivalent of diffusing a bomb without the handy timer that madmen seem to include for dramatic purposes. Bette wired one up while we were trying to enjoy lunch at a restaurant that, for some cruel reason, had no flat surfaces in either restroom on which we could change her.
I did the geometry in my head and realized there was probably enough space in the trunk of the Veloster to make it work. I laid out my extra diaper, wipes, trash bag, changing pad, and hand sanitizer and there was plenty of room to do my work. Because it's so deep, Bette also had more privacy than she normally gets when we're out in the world.

Would I baby it? Sure. The Matte paint is begging to get wrecked by a larger kid and I'm not sure the suspension upgrades make the car much better, but I still think the Veloster is a smart and interesting package.
If I were in the market I'd get a regular Turbo manual with navigation and buy the shifter as a kit and call it a day and spend about as much as the model pictured above.
Compared to the 1970s era Volkswagen Beetle I was carted around in this thing is a Bentley and it will certainly baby. With some tweaks to the steering and a little more power the next generation Veloster could be a car that's as cool as it looks.