Hyundai has built tons of hatches over the years, but not many that really count as true "hot hatches." Now, finally, the company is building a powerful hatchback called i30 N, and we should all be excited. Except those of us in the U.S., because we may not be getting it.
Hyundai could have built a hot hatch when it released the Veloster. But instead, the company made a quirky little hatchback with an anemic 134 horsepower engine that could only get the car to 60 in eight seconds. Then Hyundai threw a turbo into the Veloster, and even those 201 ponies weren't enough to make the Veloster truly exciting, only bringing the zero to 60 time to about 7.5 seconds.

Some countries in Europe had it even worse, as Hyundai ditched the Veloster entirely a few years ago, replacing it with a similarly weak-sauce 184 horsepower, eight-second-to-60 i30 Turbo.
But now Hyundai is cutting the bullshit, and actually building what, at least on paper, looks to be a true hot hatch. Called the i30 N, the new sporty five-door is the first in Hyundai's new performance-oriented "N" lineup ("honed at Nürburgring"!). Under the hood is a 2.0-liter T-GDI turbo that makes up to 272 horsepower and 260 lb-ft of torque. Power goes to the front wheels via a six-speed manual transmission and an optional electronic limited slip differential.
G/O Media may get a commission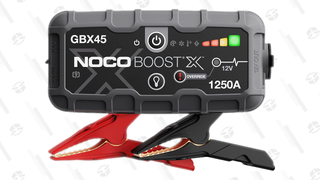 13% Off
Noco Boost X GBX75 Jump Starter
The i30 N's hot-hatchy goodness includes available features like a variable exhaust valve, adaptive suspension (MacPherson struts up front, multi-link in the back), rev matching, launch control, completely defeatable stability control, a lap timer, sports seats and Pirelli P-Zero performance tires. And of course—as is fitting for the segment—there's some weird, flashy aesthetic bits like bigger front air intakes, a red character line, "aggressive front and rear bumpers," a rear spoiler, dual exhaust, and big 19-inch wheels.
Hyundai says the car will do 0-60 in as little as 6.1 seconds (I say "as little as," because the non-performance package model makes only 247 horsepower and takes 6.4 second to get to 60), and hit a top speed of 155 mph.
Unfortunately, like many other "sporty" cars, the little 2.0-liter turbo doesn't seem to quite make an exciting enough sound, as Hyundai says the car will get an "Electronic Sound Generator," at the base of the windscreen to "[Provide] some extra acoustic drama to match the mood of the driver."
I will say that the looks, at least based on these photos, do seem a bit subdued for this class. Where are the brightly colored seats? Where are the huge hood intakes and fender flares? Where's the over-the-top design that hot-hatch buyers have come to expect? That said—especially from the back—it's a nice, clean look.
Curb weight comes in at round about 3,300 pounds for the Czech Republic-built hatchback, and Hyundai says the car will go on sale "across Europe" by the end of this year. There's no mention of whether it will come to the U.S., but I've reached out to Hyundai to find out.

Update: Hyundai has confirmed that the i30 N is not destined for U.S. shores.