There aren't too many reasons you might have traveled through Stewart Airport, but if you have, you know it's about as bustling as the sloth enclosure at a zoo. So the idea of clearing out the quiet with the world's largest passenger jet is kind of hilarious.

New York City is, obviously, a huge hub of humanity and as such, it's effectively serviced by three large airports. Newark, LaGuardia and JFK all welcome thousands of people on hundreds of planes of all sizes all day every day.
CNBC reports that in 2016, JFK alone boarded "some 29 million passengers." Stewart boarded 137,000 in the same timeframe. Still, apparently the runway was long enough to accommodate a Singapore Airlines Airbus A380 on its way to New York from Frankfurt, Germany when it couldn't land at JFK due to some bad weather I hear they're having.
An A380 is a 600,000-plus-pound behemoth with seating for more than 400 people, a 262-foot wingspan and the ability to lift 1,234,600 pounds in total into the air according to Modern Airliners.
G/O Media may get a commission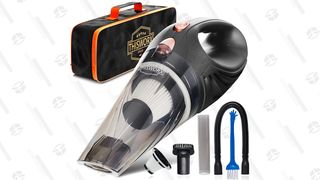 Save 50%
ThisWorx Car Vacuum Cleaner
The airport is about 70 miles north of New York City, near a dingy outpost known as Newburgh that sits on the Hudson River.
I actually used to live in this area myself and once flew from Stewart to Detroit. I can't remember if there was a bar, but I'm pretty sure it took longer to take my shoes off than it did to walk from the curb to my gate.
It takes a special kind of nerd to see humor in a huge plane landing at a tiny airport, but if you're special like me I hope you enjoyed this piece of news.