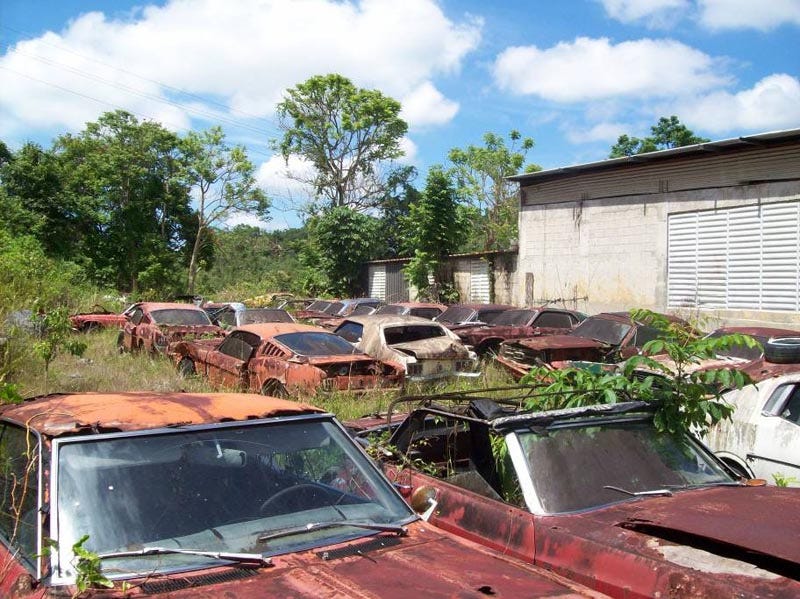 Reader Brian B was on vacation when he accidentally stumbled upon a massive collection of vintage Mustangs ranging in condition from crusty shells to pristine runners. The collector's widow's looking to sell you the whole lot for just $700,000.
It's another one of those cases every car geek dreams of, finding a little old lady looking to get rid of her recently deceased husband's car collection. This one just happens to be very focused in its range: nearly all Mustangs. There are some real gems in here too, we spotted at at least two Shelbys (in a terrible state of repair) and a couple of Machs, but without going it's impossible to know what's there.
We'll let Brian B tell the story and lay out his devious plans for the collection:
Dear Fellow Jalopnaholics,

I have just returned from a vacation somewhere tropical. On the way back form a day excursion I chose an alternate way back to the highway. Ok, I made wrong turn somewhere and rolled with it. This "scenic route" brought us upon what was recorded by these images. It was my wife who first saw them. "Oh look, Mustangs!" I turned my head in time to see a metric shitload of vintage ponies. I immediately turned around and pulled into the driveway. There was a gentleman in the yard who turned out to be the caretaker for the owner of the house/treasure trove. It turns out that the guy who collected all these cars recently succumbed to cancer and his wife wants all these pretty ponies sold en masse for what is by local standards the princely sum of $700 large (I think there plenty of room for negotiation here).

Herein lies my dilemma and why I have not given up exactly where in the Western Hemisphere they are located. Since I am a bit short of the liquid assets for such a transaction, I am looking for someone with sufficient wherewithal. In exchange for the missing info, I want a "finder's fee" of pick-of-the-litter of one of the 'Stangs (obviously not one of the Shelbys) plus the old Ford Deuce – FOB, San Diego. I'll cover the transport from the Port of SD to my house J In addition to what you can see in the photos, there is also a Fiat 600, a mid-50's Chevy sedan and the Model A partially visible is a pickup. That's as best as I can recall but I think there's more.

I gotta say this was a shocking find. The temperature was about 90 degrees and the humidity was roughly 1000%. Naturally, I was sweating profusely yet as I walked around quickly taking these pictures (we were pressed for time) I had goose bumps. As you see from the images, the cars strewn about the yard were numerous and in various stages of oxidization. I'd estimate that more than half are savable, the rest will need to be scrapped but may well offer additional parts before succumbing to the crusher (or pulverizer, as the case may be). The most astounding specimens, as you can see, were in the large outbuilding. According to the caretaker, all are in running condition and most were in truly excellent shape. Additionally, there were racks upon racks of parts. Some were used but many were OE new parts that have never left their boxes. A separate outbuilding housed all manner of engines, engine parts and body panels.

The Good Widow will not entertain selling these piecemeal – the buyer must take everything. To the right buyer, this should not be a problem as the parts alone must be worth a small fortune. So, Dear Jalops, I need your help. These gorgeous Ponies need your help. I am perfectly willing to make a return trip to this tropical land with the buyer (on his/her dime) to act as guide/translator and to assist in the cataloging and return of these cars to civilization. While the location is remote, they are easily shippable back to their ancestral homeland. Please spread the word and save the ponies!
If you happen to have the itch to buy a huge pole of Mustangs and Mustang parts, and the scratch to pay that kind of price, you can contact Brian B at mustangrancher@gmail.com. And of course, if you pay a visit, you'll be required to send us more pictures and perhaps sell us one of the 'stangs for $500 for the next LeMons race.