Are you on the fence about camping out in front of the television for an entire day? Do you think you have better things to do than watching the greatest race in the world for 24 hours straight? Don't be! The hot new cars for this year's 24 Hours of Le Mans may resemble regular cars instead of low-flying spaceships, but there's already no shortage of drama surrounding the latest GT cars. Here's why you should watch all 24 hours.
Those of you who know and love multi-class sports car racing may already be camped out in a set of custom-made KCMG footie pajamas in a soggy tent just off the Porsche Curves. Good for you.
This guide is for everybody else who wonders what on earth is going on, and why this race matters so much.

How do I watch this?

Let's start with the most important question. You have a full 24 hours to check it out, starting with a French flag that drops on Saturday at 9 a.m. ET.
G/O Media may get a commission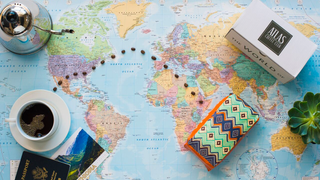 First Bag Free
Atlas Coffee Club - Free Coffee
Explore global coffee
With each bag, Atlas includes details on the coffee's tasting notes and a postcard about the region and its coffee history. And when you subscribe, you have options to tailor frequency, grind size, and roast preference of your beans, so you'll always be brewing the perfect cup.
The best part is you don't even need a television. By far the best way to follow the race—hands down, not even a contest—is through the WEC's official, purchasable stream available here through WEC's site or here through Le Mans' site. It's commercial-free, you can access the replay for free up to three weeks after the race, and you can even switch to one of several onboard views straight in their online interface.

Onboard videos from Le Mans, especially at night, are surreal. It's just a car shooting into the darkness with loud engine sounds and it's somehow the most bizarrely mesmerizing video I end up watching all year.

Want more onboards? Follow Porsche's works teams' streams here and the Ford Chip Ganassi Racing Team GTs' streams here. Ford is also broadcasting a garage cam for yet another cool behind-the-scenes view.

The WEC puts its live timing data right on the same page as its official stream, but in case you're watching the race elsewhere and want to look at the timing data on its own, there's a free live timing screen here.

American television coverage is a bit more complicated, as Fox Sports is doing its traditional channel-hopping for the duration of the race. Fortunately, the end of the race is slightly less borked than last year, where the very, very end required yet another channel-hop. However, there's three holes in the middle of Fox's coverage where you'll need a Fox Sports Go website login (typically provided through your cable company) to watch.

All times Eastern, via Sportscar365:

Saturday 8:30 a.m. - 2:00 p.m.: Fox Sports 1 [Update: Fox has screwed the pooch AGAIN this year and bumped the start to Fox Sports 2. Coverage resumes on FS1 at 11:00 a.m.]
Saturday 2:00 p.m. - 4:30 p.m.: Fox Sports 2
Saturday 4:30 p.m. - 6:00 p.m.: Fox Sports Go online stream only
Saturday 6:00 p.m. - 6:30 p.m.: Fox Sports 2
Saturday 6:30 p.m. - 7:00 p.m.: Fox Sports Go online stream only
Saturday 7:00 p.m. - 7:30 p.m.: Fox Sports 2
Saturday 7:30 p.m. - 10:30 p.m.: Fox Sports Go online stream only
[UPDATE #2: Fox has changed the schedule yet again on Saturday afternoon for the rest of the race due to continued coverage of the U.S. Open. At least they gave us slightly more notice this time.]

Saturday 10:30 p.m. - Sunday 2:30 a.m.: 2:00 a.m.Fox Sports 2
Sunday 2:30 a.m. - 9:30 a.m. 2:00 - 7:00 a.m.: Fox Sports 1
Sunday 7:00 a.m. - 9:30 a.m.: Fox Sports 2

Why, Fox? Why? Thirty-minute channel hops for a race where the fastest laps are just over three minutes long are a little ridiculous. This is why we can't have nice things on broadcast television.

That being said, Fox Sports Go will stream the entirety of the race as well, just in case you'd rather not risk having the race preempted for a random soccer game.

Just need audio? Radio Le Mans (surprise!) covers the entirety of this race here.
Why are there so many different kinds of cars on track?

So now that you've committed to watching the big race, let's lay down some basics.
The 24 Hours of Le Mans is the World Endurance Championship's flagship event, and the WEC is a multi-class sports car endurance series. In addition to production-based GT cars like the Ferrari 488 GTE and Porsche 911 RSR, you've got purpose-built racing prototypes flying around at even higher, crazier speeds.

Because Le Mans is the big show, teams from other regional championships, such as the WeatherTech Sportscar Championship and the European Le Mans Series, end up alongside full-season WEC entries. They all have to adhere to the WEC's classes, though.

LMP1 is the top-level endurance prototype class in the world, full of exactly the kind of bleeding-edge technology you'd expect with that. Die-hard engineering geeks love it because the regulations allow a wider variety in cars for the class than they do in a more regulated series like Formula One or IndyCar.
It's a class that pits the Porsche 919 with its teeny gasoline-powered turbo V4 hybrid engine against a diesel hybrid Audi, for crying out loud. The cars are insane, and the different approaches to the WEC's regulations are always fascinating.
There are two kinds of LMP1s, too—the manufacturer-backed entries of Porsche, Toyota and Audi (often designated as LMP1-H due to their hybrid systems) and the privateer entries of ByKolles and Rebellion.
If that's not enough prototype madness, there are also all the LMP2 cars—more purpose-built race cars, only that class is open to drivers classified as amateurs. The cars are less custom-built than the LMP1s, and usually have a chassis bought from a manufacturer like Morgan or Oreca, and an engine supplied by another manufacturer, like Nissan or Honda.

What if you like watching cars that look like um... cars?

The cars that look like your inner Xzibit pimped out a supercar to the max comprise the WEC's GT racing classes. The WEC calls them the LM GTE classes for "Le Mans Grand Touring Endurance." LM GTE Pro is pretty self-explanatory: teams are allowed to run teams of entirely professional drivers if they please. Thus, it's typically where you'll find the major factory-backed entries, like the Ford Chip Ganassi Racing GTs and the Corvette Racing duo. LM GTE Am, on the other hand, requires a certain number of amateur drivers on the team.

The WEC has a more detailed break-down (with pictures!) of each class here, for the curious.

What makes Le Mans any more interesting than any other race with a bunch of different stuff in it?

First off, putting multiple classes of cars out there with each other is an added challenge that makes the racing at Le Mans so insane. Fast cars have to dodge slower traffic at ludicrous speeds, through total darkness and frequently soggy conditions. One of the most well-known Audi commercials documentaries about the race starts off with "It always rains at Le Mans" for a reason.

On top of all that, a large chunk of the 8.4-mile Circuit de la Sarthe where the race takes place is comprised of public roads—not a pristine, well manicured circuit like the rest of the WEC season. Part of it is on a purpose-built track, however, some of the most grueling sections of the course, like the super long Mulsanne Straight, aren't on that track at all.

There's a lot of prestige that comes with merely finishing a race this long and difficult. Some manufacturers love being at the pinnacle of racing technology; others want to prove their worth with something that resembles their road cars, and Porsche wants to do it all. All of them want to point at their competitors and say "we conquered that."

It's an alluring race precisely because it's so difficult just to finish, even in the modern era of more reliable cars. These cars are truly a team effort, and merely keeping everyone focused and alert all day long is a gargantuan task. Something as simple as a borked pit stop or a high-speed love tap from another car can throw you out of contention.

As such, Le Mans is considered one leg of the Triple Crown of Motorsport alongside the Indianapolis 500 and the Formula One Monaco Grand Prix. It's not just historic and beloved, but it's one of the most grueling races one can attempt.

Wait, historic?

Le Mans is the world's oldest sports car endurance race. It was first held in 1923. Thank, or blame, this race for making endurance racing a thing for so long, such that many amateur endurance series have blossomed as a result.
If you've ever considered putting Superman underwear on the outside of your pants to run on a 24 Hours of LeMons team, well, guess what that's a parody of?

So, there's 60 cars this year. Which ones are the most important?

This year's biggest story isn't with a crazy prototype design, but rather, a GT car that completely flips the idea of what a supercar should look like on its face: the Ford GT, with its angular buttresses, donut-like taillights and all.
Ford made history fifty years ago with a 1-2-3 podium finish against their bitter rivals at Ferrari. This year, however, a qualifying finish so good the race organizers decided that the LM GTE Pro-class Fords and Ferraris should be slowed down for the race itself may have cemented a whole new rivalry with Ford's fellow Americans at Corvette Racing. The Corvette team was among the most vocal about the disparity in performance in the LM GTE Pro class.
The biggest, top-class LMP1-H teams of Audi and Porsche may have scaled back for this year, but that doesn't make the fight for the overall win any less hotly contested. Porsche, Audi and Toyota all seem to have a shot at the overall win, provided they don't break like just about everybody did at the 6 Hours of Spa-Francorchamps.

In that case, we might see a Rebellion LMP1-non-H on the overall podium again! Rebellion's No. 13 seems to be the luckiest of the privateer entries this year after it outlasted many of the big-name entries at Spa.

The pole-sitting Porsche team actually reverted back to their 2015-spec hybrid batteries on the 919s, per Autosport, just to play it safe after the No. 2 lugged around a dead hybrid system for most of its last race at Spa. Are they perhaps playing it too safe with the car this year, or will they follow up last year's win with another?

Of course, there's any number of pro-am teams running in LMP2 and LM GTE Am that rarely make the biggest headlines. Because it's Le Mans, you'll see more drivers hopping on to a one-off driver just to be able to say they've done it. Find your favorite drivers and teams, and follow them around the track for 24 hours.

But I am le tired.

So am I. No excuse. Besides, we've got this covered.